What you see is complexity at every stage.
Fossil Record
Fossils are the remains of once-living things. They can be plant or animal bodies that have been partially or completely replaced by minerals. They can be impressions that just show the shape of a creature, or tracks left behind by a traveler, or other remnants that testify to the lives of long-gone organisms. Some rare fossils even have original organic soft tissue encased in rock, showing that their organisms couldn't have been dead for millions of years, as evolution claims.
All fossilized creatures appear suddenly and fully formed in the rock record, with no clear history of evolutionary transitions. This is consistent with the Bible's assertion that God created life forms to reproduce within their own kinds. Second, fossils formed very quickly, before the animal or plant completely decayed or was scavenged. This means that fossils formed through catastrophic circumstances. Most fossils can be attributed to the worldwide catastrophe of Noah's Flood, in which countless creatures were killed and then rapidly buried, or to its residual effects.
Fossils also serve as reminders of God's character. His righteousness and holiness obligated Him to cleanse the world of wickedness by drowning every land-dwelling, air-breathing creature that was not providentially preserved on the Ark. Fossils should be taken as reminders of the penalty of man's sin and should motivate people to prepare for death.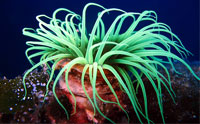 Interesting markings were recently found on a rock in Newfoundland. A study concluded that they were trails left by seafloor-dwelling animals around 565 million years ago.
But such a find is difficult to reconcile with the evolutionary teaching that muscles, and therefore animal locomotion, did not evolve until much later. More...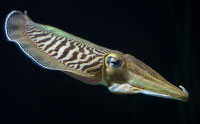 Cuttlefish are mollusks with a hard, supportive structure made of cleverly woven strands of a biochemical material called chitin and mixed with a hard biomineral called aragonite. A team of paleontologists found a supposedly 34 million-year-old fossil cuttlebone that still had both the original aragonite and chitin.
This is significant, because one might expect the hard aragonite to persist in the fossil record, but not the organic chitin or protein. More...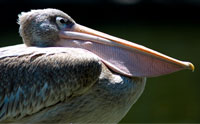 Paleontologists assess the age of fossilized creatures by the rock layers in which they are found. A fossil found in a lower rock layer is considered to have lived in a much earlier time than one found in a higher ("younger") stratum.
Fossil discoveries, however, continue to challenge this interpretation of the geologic timescale. More...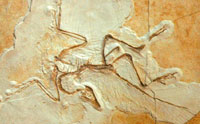 But organic molecules like pigments, and especially proteins, shouldn't be there if the specimen is older than a million years. These results challenge the "millions of years" date assigned to this fossil. More...

Analysis of an unusual Brazilian fossil has led U.S. researchers to link microscopic fossil features to bird feather colors. The fossil has dramatic black and white banding patterns that have been interpreted as post-fossilization bacterial activity. However, there are structures in the rock in which it was found that are the same size and shape as cells from living dark feathers. More...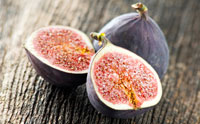 The life cycles of fig trees and fig wasps are so closely intertwined, they look like they were made for each other. If this is true, then their fossils would be quite similar to modern forms, showing no history of imagined evolutionary past.
And recent research on a fig wasp fossil shows exactly that. More...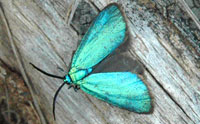 Many butterflies and moths have colors that show a metallic sheen. That sheen occurs because the refracting material in their wings and bodies is spread out in layers precisely as thin as the wavelengths of the light they refract.
Researchers recently found these delicate structures in moth fossils from Germany that are supposedly 47 million years old. But how could something that delicate last that long? More...
The famous Confuciusornis sanctus fossil from China contains patches that appear to be residue from the bird's original tissues. Long evolutionary ages should have made this impossible, since any such biological material would have completely decayed millions of years ago.
But although the fossil is supposedly 120 million years old, researchers recently confirmed the presence of original organic material. There is a serious problem with this fossil's age assignment. More...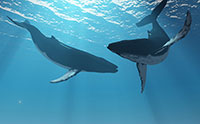 Paleontologists recently presented their analysis of original skin leftovers from three marine reptile fossils and inadvertently revealed three clues that darken their evolutionary explanations. More...

Institute for Creation Research scientists documented several clock-like processes in rocks during the groundbreaking Radioisotopes and the Age of the Earth (RATE) project, confirming an age of 6,000 years. More...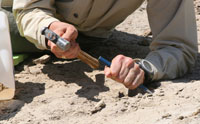 Who has ever heard of a fossilized brain? Few would expect such a discovery, yet it looks like that's what researchers found inside a Stone Age skull from Norway. If so, it would confirm a published creation prediction and challenge many evolutionary timescales. More...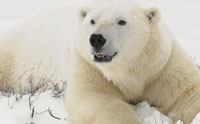 Biologists agree that polar bears, brown bears, and black bears all descended from a prototype of the bear kind. Some researchers infer from the biblical record that bears rapidly and recently diversified from a representative bear pair on board Noah's Ark, while those who reject the biblical record derive age information from other sources. More...