At lower latitudes you would have had some areas that would have been very lush.
Ice Age

The Ice Age has been a longstanding problem for uniformitarian thinking, with many unsolved mysteries. No mere tweaking of today's climate conditions would cause such a catastrophe. A creationist model based on the revealed events of Scripture, however, offers a possible answer. More...

Nor'easters enhanced by a warm Atlantic Ocean following the Genesis Flood would have dumped large quantities of snow in eastern Canada.1 This could explain why the Laurentide Ice Sheet was thicker farther to the east in North America during the Ice Age. More...

Introduction
Yellowstone National Park holds the distinction of being the first national park in the United States and in the world. It exhibits magnificent geological features such as a 30-mile-diameter volcanic caldera; myriads of geysers, including Old Faithful; and a major community of large animals such as deer, elk, moose, and bear. More...

Yosemite National Park contains evidence that glaciers once filled Yosemite Valley to a depth of over 3,000 feet, almost to the top of Half Dome, and covered most of the higher elevations in the park. These glaciers are conventionally thought to have occurred over hundreds of thousands of years during several ice ages, the last of which reached its peak about 18,000 years ago. More...

Glaciers once filled Yosemite Valley almost to the top of Half Dome, stretching over Tuolumne Meadows and to Tioga Pass near the top of the Sierra Nevada. Large fields of granite that are now exposed were planed down by the movement of the glaciers as they ground downhill, leaving behind evidence of their presence and direction of travel. But if glaciers occurred after the Genesis Flood, how did they form and why have they disappeared? More...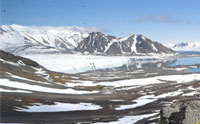 Scientists found a mummified forest in 2010 on northern Canada's Ellesmere Island. It had apparently been buried by a landslide long ago and was exposed by receding ice and glaciers.
How those trees were able to grow in a place that is now too cold for them is uncertain. But several clues from the find fit with a biblical timeline and setting, and conflict with evolutionary assumptions. More...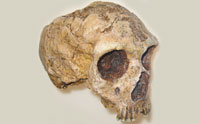 For decades, evolutionists had labeled Neandertals as sub-human, alleging that they had eaten mostly meat. But a recent forensic analysis of Neandertal teeth shows that they ate grains and other plants, which adds to the body of evidence showing they were human and not evolutionary ancestors. More...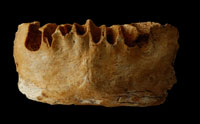 Neandertal remains are mostly found in European caves. So when Neandertal-like characteristics were discovered among a fossilized jawbone and teeth in South China, it was cause for further investigation. Not only was the location a curiosity, but the jawbone shared both Neandertal and modern human features.
Finds such as this create new kinks in the evolutionary chain of human and Neandertal history. More...

Japanese and European anthropologists recently published a study they conducted on the remains of Neanderthal children. The researchers compared reconstructions of a newborn Neanderthal with the skeletons of infant Neanderthals to gauge the growth rate of their heads.
Their conclusions confirm several aspects of the creation model. More...

A set of fossilized human remains has been discovered in Iberia that shows partial Neanderthal characteristics, proving again that Neanderthals interbred with anatomically modern men. This adds to a growing list of evidence that demonstrates Neanderthal to have been fully human, rather than an evolutionary transition.
In contrast to ever-evolving naturalistic interpretations, the biblical creation model has consistently maintained that Neanderthal man was just that—man. More...
It is not uncommon to read that ice cores from the polar regions contain records of climatic change from the distant past. Research teams from the United States, the Soviet Union, Denmark, and France have bored holes over a mile deep into the ice near the poles and removed samples for analysis in their laboratories. More...