The Greatest Name
by Henry M. Morris III, D.Min. | Jun. 19, 2021
"Wherefore God also hath highly exalted him, and given him a name which is above every name: That at the name of Jesus every knee should bow, of things in heaven, and things in earth, and things under the earth." (Philippians 2:9-10)
While the role of the Lord Jesus appears somewhat subdued in the Old Testament, it dominates the New Testament. The Hebrew equivalent of "Jesus" appears only 13 times as "saviour." The Greek text explodes with over 960 verses either recording statements made by Jesus or proclaiming Him as Lord and King.
King David declared: "Blessed be his glorious name for ever: and let the whole earth be filled with his glory" (
Psalm 72:19
). And, of course, the great "name" passage in
Isaiah 9:6
amplifies the many aspects of the "child" whose "name shall be called Wonderful, Counsellor, The mighty God, The everlasting Father, The Prince of Peace."
But Jesus prefers "Son of man." That title is used 89 times, while "Son of God" is used 53 times. The majestic name of "Lord of lords, and King of kings" is used only three times in the New Testament, twice in the closing book (
Revelation 17:14
and 19:16) and once in Paul's moving benediction: "Which in his times he shall shew, who is the blessed and only Potentate, the King of kings, and Lord of lords; Who only hath immortality, dwelling in the light which no man can approach unto; whom no man hath seen, nor can see: to whom be honour and power everlasting. Amen" (
1 Timothy 6:15-16
).
Since the New Testament emphasizes the ultimate kingship of our Lord Jesus, we can understand that the dominant name cited nearly 250 times in the Old Testament ("LORD of hosts") refers to the Ruler of heaven, the Lord Jesus (
Malachi 3:17
). HMM III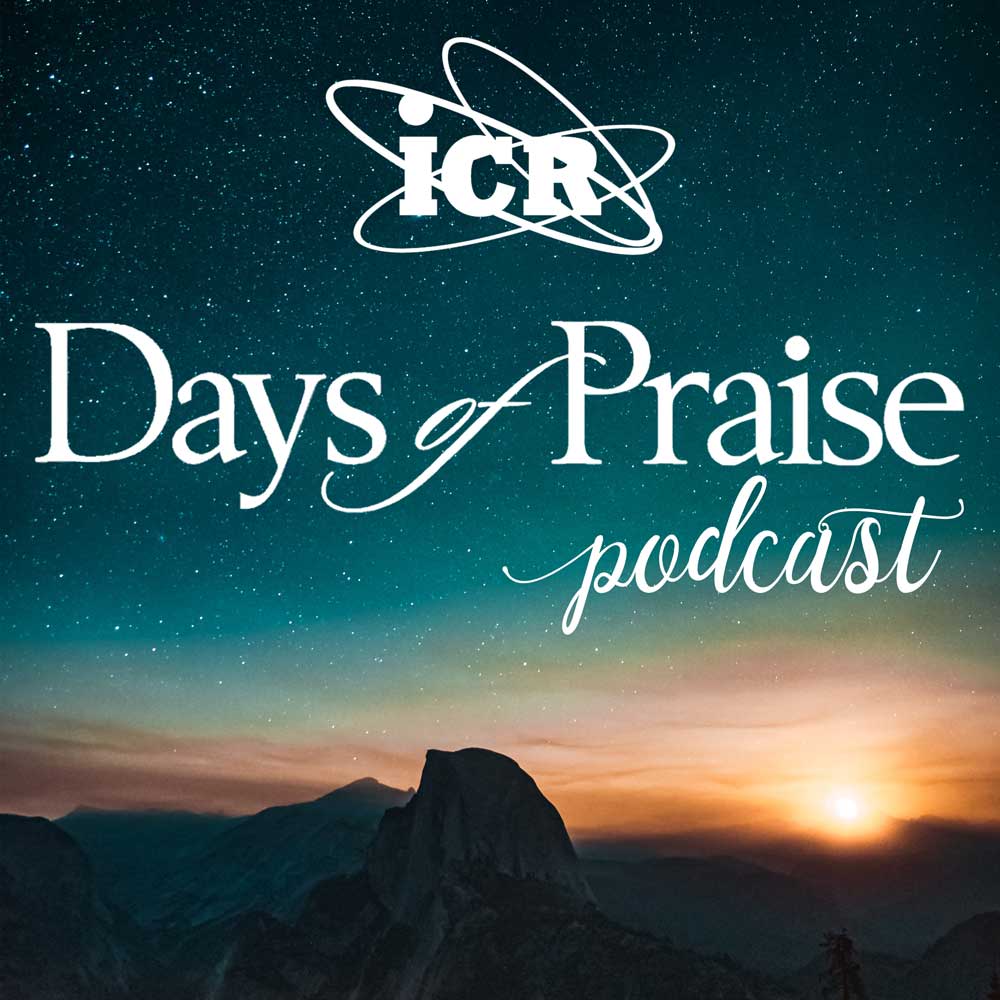 Days of Praise Podcast is a podcast based on the Institute for Creation Research quarterly print devotional, Days of Praise. Start your day with devotional readings written by Dr. Henry Morris, Dr. Henry Morris III, Dr. John Morris, and others to strengthen and encourage you in your Christian faith.





The Obedient Christ
"And being found in fashion as a man, he humbled himself, and became obedient unto death, even the death of the cross.More...
Reasonable Service
"I beseech you therefore...by the mercies of God, that ye present your bodies a living sacrifice, holy, acceptable unto God, which is your reasonable service.More...
The Incarnation of Christ
"Christ Jesus...being in the form of God, thought it not robbery to be equal with God: But made himself of no reputation, and took upon him the form of a servant, and was made in the likeness of men.More...
Jesus Christ Is Lord
"And that every tongue should confess that Jesus Christ is Lord, to the glory of God the Father.More...
More Articles