Unlocking the Mysteries of Genesis is a groundbreaking 12-episode DVD series that explores scientific evidence that confirms the biblical account of creation.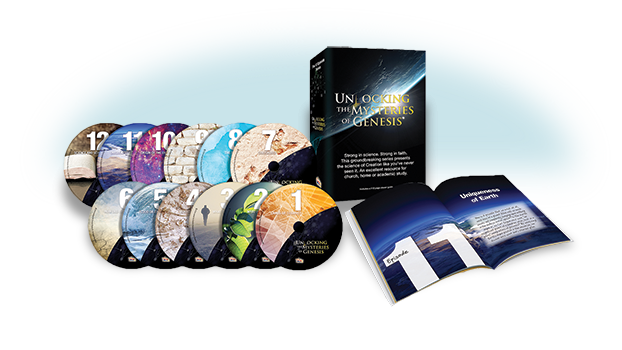 Perfect for Sunday and evening classes and small groups, each 22-minute episode takes viewers of all ages on a memorable journey through some of the most fascinating topics in creation science.
This faith-affirming series includes a viewer guide that makes it easy for non-scientists, including pastors, youth leaders, parents, homeschoolers, and others, to facilitate an informed discussion about creation science and equip viewers with defensible answers to some of the most provocative and controversial questions of faith and science.
Click here for more information or to order.
Episode Video Clips
Click on a thumbnail to watch a video clip about an episode.
Chaos or Cosmos?
What Is Life?
What Is Man?
Buried Clues
Flood or Fiction?
How Old Is Earth?
Rise of Civilization
Origin of the Universe
Uniqueness of Earth
Science and Scripture