The sun is unusually stable for a star.
Astronomy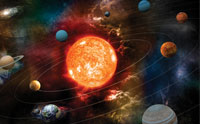 One of the wonderful things about astronomy is that it is so different from our everyday experience. Things are not what they might seem at first glance. Who could have guessed that those tiny little specks of light in our night sky are actually "suns" hundreds of times larger than Earth? Who would have suspected that the "evening star" is actually a rocky planet about the same size as our own?
God has constructed the universe in a truly marvelous way. As we study it, the universe continually surprises and delights us by challenging our understanding of how things work. More...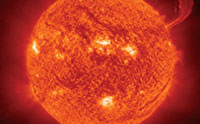 At the heart of our solar system is the sun, a stable hydrogen "bomb" that gives off more energy every second than a billion major cities would use in an entire year. The sun is remarkable in its complexity and power. When we examine the science of the sun, we find that it confirms biblical creation. More...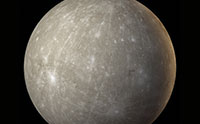 The smallest planet of our solar system holds some big mysteries for secular astronomers, and it continues to delight creationists. Mercury is a solid, rocky world, with only a trace of an atmosphere. It has mountains, valleys, plains, and craters—lots and lots of craters! In appearance, Mercury resembles a 40 percent larger (in radius) version of the moon. But when it comes to creation research of the early solar system, Mercury provides many interesting clues. The unusual characteristics of this world make for an intriguing study. More...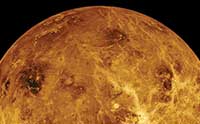 With modern technology, we have learned a great deal about Venus. Venus is about the same size as Earth. The composition of Venus is also similar to Earth, and its orbit is physically closest to Earth's of all the planets. For these reasons Venus is sometimes referred to as "Earth's sister" or "Earth's twin." But there are far more differences than similarities. More...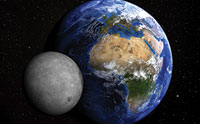 When the Voyager 1 spacecraft reached the edge of our solar system in 1990, it turned its camera around and photographed Earth. From such a tremendous distance, the earth appears as a tiny bluish-white grain of sand lost in an ocean of black. This famous image of Earth is named the Pale Blue Dot. From a secular perspective, that is all Earth is—a tiny bit of rock and water in a vast and meaningless universe of chance. But in the Christian worldview, this pale blue dot is the most important planet in the universe. More...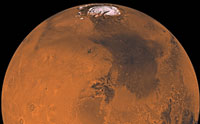 Although Venus has been called Earth's sister due to the similar size of these two worlds, the planet that appears most earthlike at its surface is undoubtedly Mars. A solid, rocky world, Mars is just over half the size of Earth in diameter. It appears as a vivid red star in our nighttime sky, giving rise to its nickname, the Red Planet. This is no illusion. The surface of Mars is composed of oxidized compounds of iron—essentially rust. This amazing planet has properties that both challenge secular ideas and confirm biblical creation. More...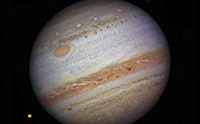 The planet Jupiter is a wonderful example of the creativity of the Lord. Jupiter does not possess a solid surface but is an enormous spheroid of gas—eleven times the diameter of Earth—held together by its own gravity. The gas pressure increases with depth, eventually becoming liquid. More...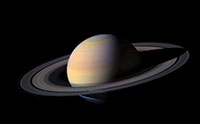 When people peer into a telescope and see Saturn for the first time, the typical response is "Wow!" All the other planets appear as simple disks with a few surface features, but Saturn's rich system of rings makes it look more like a piece of celestial jewelry. Composed of trillions of tiny moonlets—particles of water ice—these rings orbit Saturn, giving it a stunning, three-dimensional appearance quite different from any other planet. More...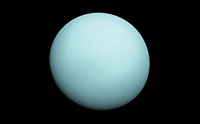 For millennia, the science of astronomy was limited to observations that could be made with the unaided eye. That changed in the 1600s with the invention of the telescope. As telescopes grew in size and optical quality, these marvelous instruments enabled astronomers to detect and investigate astronomical phenomena that are difficult or impossible to see with the unaided eye. Not least among these was the discovery of a previously unknown planet—Uranus. More...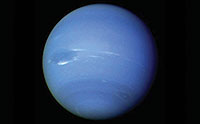 The year was 1989. A small, unmanned space probe rapidly approached the mysterious and unexplored planet Neptune. Voyager 2 had traveled over four billion miles during its 12-year mission and was about to become the only spacecraft to visit distant Neptune. Astronomers all over the world waited eagerly for the first high-resolution images. What wonderful secrets would be revealed? More...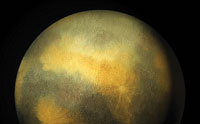 In 1930, astronomer Clyde Tombaugh discovered a faint point of light orbiting the sun beyond Neptune. The new world "Pluto" was considered the ninth planet for 76 years, but in 2006 the International Astronomical Union voted to reclassify Pluto as a "dwarf planet." What prompted this change in nomenclature? More...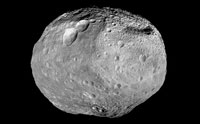 In the year 1801, Italian astronomer Giuseppe Piazzi discovered a new planet in our solar system between the orbits of Mars and Jupiter. Named Ceres, this new world was far smaller than the other planets, but unlike a moon it orbited the sun directly. By the middle of the nineteenth century, 15 of these minor planets had been located. Around that time, astronomers began to reserve the term planet for only the largest eight worlds of our solar system, and from then on, the newly discovered small worlds were called asteroids. More...