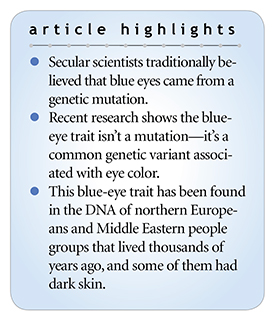 When it comes to the history of basic human traits, an evolutionary myth about eye color often pops up. The secular story maintains that blue eyes are the result of a genetic mutation that occurred in the recent evolutionary history of humans. This narrative is rooted in the belief that modern humans originally evolved from dark-skinned, dark-eyed ancestors from Africa. As the story goes, a mutation occurred when humans migrated into more northerly climates where the trait was supposedly favored by the lower-light environment. But, as I've discussed in previous articles, this out-of-Africa idea is contradicted by both genetic and linguistic data.1
As with most traits that were once thought to be very simple and only controlled by a few genes, eye color now appears to be much more elaborately controlled than previously believed.2 Human eye color variation is a result of diverse levels and distribution patterns of melanin pigment in the iris. Genetic studies have determined that it's a complex trait controlled by a number of different genes that interact with each other, with some genes playing larger roles than others.3 A significant portion of the melanin variation is controlled by a regulatory element, a specialized segment of DNA that acts somewhat like a programmable light switch. This particular stretch of DNA binds specific groups of regulatory proteins that control a gene associated with melanin production.
People with blue eyes have a common variation in the DNA of this region, and it binds a slightly different set of regulatory proteins compared to that of people with brown eyes.3 Because there are different highly specified sets of proteins that interact with the regulatory DNA in the various patterns of eye color, the blue-eye trait isn't really a mutation at all. It's actually the result of a specific genetic program that varies eye color.
The biology and genetics of the eye color trait indicate a suite of genetic program variants that the Creator placed in humanity at the beginning of creation. Several recent secular genetic studies have shown that the blue-eye trait existed in the DNA of some of the oldest known humans. In 2018, one research study found this trait in the DNA of two different human remains from northern Europe that were allegedly 9,000 and 7,000 years old. The older individual was believed to have also had dark skin.4
Another recent report described the presence of the trait in the DNA of human remains found in Israel with an alleged age of about 6,500 years.5 In fact, this study also reported that almost 50% of the people in this Middle Eastern population had blue eyes! While the secular dates for these studies are likely inflated due to the influence of evolutionary presuppositions that permeate archaeology, it's clear that blue eyes were a common human trait throughout Europe and the Middle East about 4,000 years ago, a time when Earth was being repopulated after the global Flood and the dispersion from Babel.
Based on research in ancient DNA and molecular biology, it's clear the blue-eye trait is not some random mutation that occurred as humans were allegedly evolving from dark-eyed and dark-skinned ancestors coming out of Africa. Blue eyes, along with other variants (brown, green, etc.), can be found in humans of many different skin colors and people groups and are part of the natural variation built into us by our Creator, who loves variety.
References
Tomkins, J. P. Out of Babel—Not Africa. Creation Science Update. Posted on ICR.org February 16, 2015, accessed July 8, 2019.
Tomkins, J. P. 2018. Human Traits Not So Simple After All. Acts & Facts. 47 (2): 15.
Eiberg, H. et al. 2008. Blue eye color in humans may be caused by a perfectly associated founder mutation in a regulatory element located within the HERC2 gene inhibiting OCA2 expression. Human Genetics. 123 (2): 177-187.
Brace, S. et al. Population Replacement in Early Neolithic Britain. bioRxiv. Posted on biorxiv.org February 18, 2018, accessed July 8, 2019.
Harney, E. et al. 2018. Ancient DNA from Chalcolithic Israel reveals the role of population mixture in cultural transformation. Nature Communications. 9 (1): 3336.
* Dr. Tomkins is Director of Life Sciences at the Institute for Creation Research and earned his Ph.D. in genetics from Clemson University.