Adam or Apes Dallas Film Premiere at the ICR Discovery Center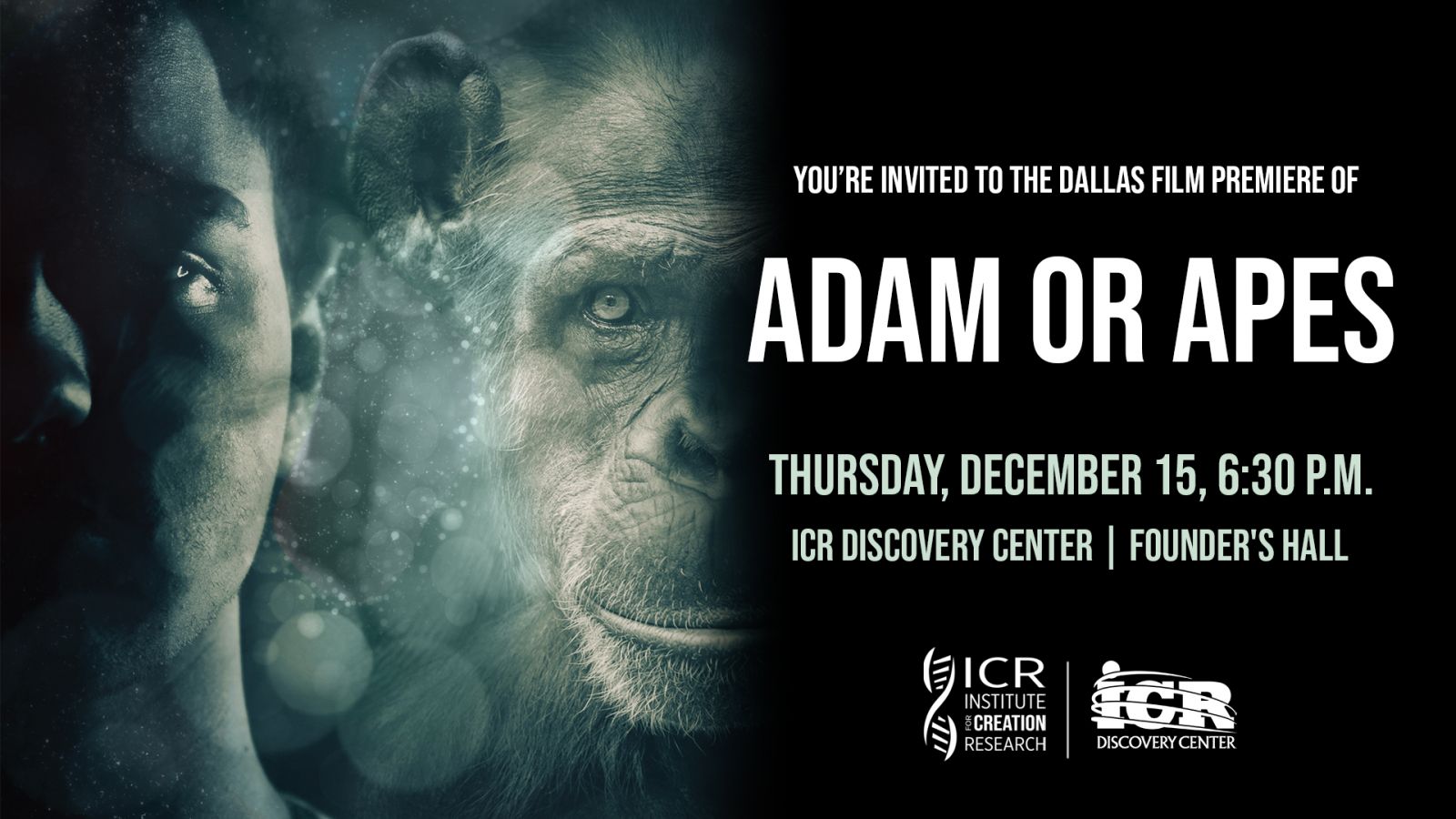 Date: Dec 15, 2022
Join us on Thursday, December 15th for the Dallas film premiere of Creation Class: Adam or Apes at the ICR Discovery Center! Be among the first to watch this new film, ask questions during a live Q&A session, and enjoy a meet & greet with the film's producers and talent. Tickets are free but registration is required. Seating is limited—we encourage you to reserve your tickets today.
Ever since Darwin proposed his theory of evolution by means of natural selection, scientists have been eager to find proof. The hunt for clues to human evolution takes center stage. Fossil specimens are frequently presented to the public as undeniable confirmation that modern man developed from an ape-like ancestor. Are these claims valid? Is the evidence so ironclad that no one can dispute it? Join ICR paleobiochemist Dr. Brian Thomas as he unravels some of the biases inherent in the scientific community and dismantles the claims regarding several alleged "missing links."
Can science and faith be reconciled? What should we believe about the Bible's account of human origins and Earth history? ICR's Creation Class series affirms the accuracy and reliability of Scripture. Join ICR experts as they teach how science—from genetics to geology—confirms the truth of God's Word.

Watch the Adam or Apes trailer below!
Schedule
Thursday, December 15th
Time
Session
6:00 p.m.
Doors Open
6:20 p.m.
Seating for Screening Starts
6:30 p.m.
Welcoming comments
6:40 p.m.
Adam or Apes starts
7:20 p.m.
Q&A with film producers and talent
8:00 p.m.
• Meet and greet with film producers and talent
• Discovery Store open for Adam or Apes DVD and other resource sales
9:00 p.m.
Event ends and Discovery Center closes
Tickets
Tickets are free, and families and groups are welcome to register multiple people at a time.
Location
Founder's Hall
ICR Discovery Center
1830 Royal Ln.
Dallas, TX 75229

For more information please call 214.615.8325 or email events@ICR.org.