by Michael Stamp and Susan Windsor*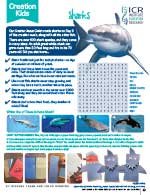 You're never too young to be a creation scientist! Kids, discover fun facts about God's creation with ICR's special Creation Kids learning and activities page.
Our Creator Jesus Christ made sharks on Day 5 of the creation week, along with all the other fish. There are over 500 shark species, and they come in many sizes. An adult great white shark can grow more than 20 feet long. Learn more by clicking below.
Click HERE to download the September-October 2022 activity page.
Click HERE for all of ICR's Creation Kids activity pages.
* Mr. Stamp is an editor and Ms. Windsor is Graphic Design Specialist at the Institute for Creation Research.