Each January we take time in Acts & Facts to look back at the Lord's blessings upon the ministry of the Institute for Creation Research over the past year. It's good to pause and give thanks before we plow into the new year and all the activities that await us.
Of great importance to ICR in 2011 was the celebration of the 50th anniversary of the book by John Whitcomb and Henry Morris titled The Genesis Flood. In continuous publication since 1961, this book started the modern creation science movement and had an impact that continues to resonate around the world today. Working with Dr. Whitcomb last spring and with Presbyterian & Reformed Publishers, we created new content to place in the front of a special 50th anniversary edition of this significant work. Celebrations occurred throughout 2011 honoring both men and the impact of the book on millions around the world.
The mission of ICR since its founding in 1970 is best described in three main areas of work: Research, Education, and Communications.
Bio-Origins Research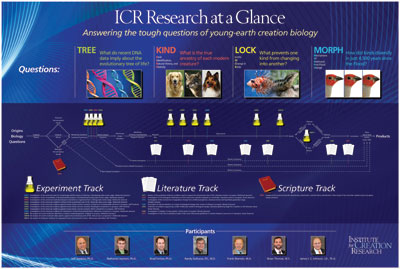 You probably have noticed how much more detailed our research columns have become since Drs. Nathaniel Jeanson and Jeffrey Tomkins began to share their work regarding our Bio-Origins Project. The research chart we developed last year for visitors to ICR is wall-size and shows just how enormous and multifaceted the work of our researchers is. Visit our Research portal at www.icr.org/research to read more about the four main bio-origins questions depicted on the chart that are currently under investigation, as well as the work ICR is doing now and has done in our 40-year history in scientific research on origins.
How do we understand the biblical "kind" today? Are there genetic clues showing how God's marvelous design accounts for the vast diversity of the animal kingdom that has developed since Ararat? What about the supposed similarities between humans and chimps? These and other questions are currently being explored by our ICR science team in this multi-year life sciences project.
Drs. Jeanson and Tomkins are aided in their efforts by team members Dr. Randy Guliuzza, Dr. Brad Forlow, and Dr. James J. S. Johnson, along with zoologist Frank Sherwin and Science Writer Brian Thomas. ICR President Dr. John Morris and Senior Research Associate Dr. Larry Vardiman round out the ICR research staff.
Teaching the Teachers
Since its founding over 40 years ago, ICR has been teaching the teachers in one form or another, and currently our education initiatives are seen in three areas: graduate education, professional development, and K-12 teacher training.
An academician all his life, Dr. Henry Morris founded ICR with graduate level education in mind. He wanted Christian school teachers to be thoroughly grounded in scientific understanding from a biblical point of view. Many of the graduates of our science program in California were able to obtain a Master of Science degree that would help advance them as professionals, as well as equip them to teach science properly in the Christian school setting.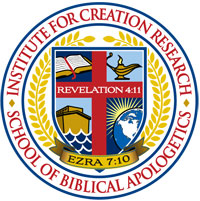 Since ICR moved to Texas, a new graduate school was launched in 2009 to broaden ICR's ability to teach the teachers about creation, evolution, and biblical authority. The School of Biblical Apologetics (SOBA) graduated its first class of students last November, with eight earning a Master of Christian Education and one a Bachelor of Christian Education from the two-year program.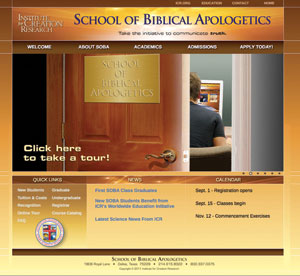 Additionally, under the leadership of Dr. James J. S. Johnson, SOBA's Chief Academic Officer, the school launched its online program in September 2011 in order to accommodate the needs of students around the world who desire solid biblical training in apologetics. With rolling admissions and a convenient self-paced format, SOBA offers current ministry professionals the opportunity to dig deeper into Scripture in order to prepare them to meet the needs of individuals who desire a more thorough understanding of God's Word and God's work. Visit www.icr.edu for more information about the school, its faculty, and the many courses it offers students.
Ministry Preparation
Since 2007, ICR has offered a non-degree training program called The Creationist Worldview, completely online and self-paced, designed for Christians everywhere who want to have a thorough grounding in worldview, biblical origins and the Genesis record, scientific creationism, and the stewardship mandate applied to today's world. Divided into five modules and 33 courses, The Creationist Worldview can be completed in as few as ten months from the convenience of home or office. More than 330 students have enrolled in the program. Visit www.icr.edu/cw for more information and to see a demo of this unique worldview educational opportunity.
Reaching K-12 Teachers and Students
In January 2011, ICR hired Dr. Rhonda Forlow as its new K-12 Education Specialist. A former teacher and administrator in Virginia and Texas, Dr. Forlow has been involved in elevating ICR's visibility among K-12 science teachers who want solid biblical advice and materials for both the Christian school and homeschool environments.
Dr. Forlow was a consultant to Prestonwood Baptist Church in its creation-themed VBS in 2011, and led the CSI: Creation Science Investigation program for local junior high students last spring. Additionally, she has advised ICR on curriculum development to meet the needs of science teachers more precisely.

In October, ICR launched Dr. Forlow's new blog called Science Essentials as a resource for teachers for biblical, creation-based science materials for K-12 students. In just the first month of its launch, the site saw some 10,000 views of the blog. With articles, activities, discussion starters, and much more, Dr. Forlow's postings connect with teachers who want practical resources for teaching science from a biblical creation perspective. Visit www.science-essentials.org to explore the blog's many enriching educational tools.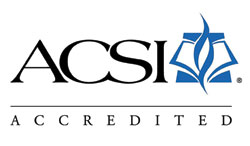 For many years, ICR has partnered with the Association of Christian Schools International (ACSI), providing speakers at their regional conventions all over the United States. In 2011, ACSI asked ICR to provide digital video content on the issues of biblical creation and science education for their new Nexus program, which allows K-12 schools and teachers to access the same great seminars that our scientists give live to education professionals throughout the year.
Additionally, ICR scientists and staff continue to speak at numerous Christian school and homeschool conventions around the country, giving teachers and parents firsthand exposure to biblical truth about the wonders of God's creation.
Creatively Communicating the Message
Communicating the wonders of God's creation requires a variety of creative avenues to distribute the message of the Bible to youth and adults alike. ICR is committed to our message, but we are eager to use the tools available to us to get that message across to scientists, pastors, teachers, students, and many others who desire to know what God says in His Word and how He has displayed His attributes in creation.
Acts & Facts is now in its 40th year of continuous publication and is ICR's signature periodical, allowing some 250,000 readers a look at biblically based articles on science, education, and apologetics. The publishing staff members at ICR who produce Acts & Facts each month are committed to excellence and it's my privilege to work with these fine individuals, along with each of our writers, to give readers around the world the finest presentations in creation science in a way that we can all understand. In December, we added Jayme Durant as a new Associate Editor on our Acts & Facts publishing team. A special thanks to Managing Editor Beth Mull for ensuring that this magazine gets into your hands each and every month.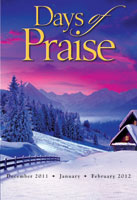 Days of Praise, ICR's devotional, reaches over 300,000 readers every day through print, web, and email versions. The Russian-language edition reaches an additional 33,000 families in the Ukraine and other former Soviet nations.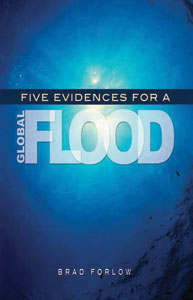 Our publishing group is pleased with additional book titles released or in production during 2011 and the wider distribution that ICR titles are receiving through our improved online store. Dr. Brad Forlow, Associate Science Editor, released a great little book titled 5 Evidences for a Global Flood in conjunction with our celebration of the 50th anniversary of the seminal work The Genesis Flood by Drs. Whitcomb and Morris. In December, we distributed nearly 25,000 of these books to ICR supporters. And Dr. Forlow is working on future titles that will be used to encourage audiences around the country, especially at ICR conferences and seminars.
ICR will be releasing quite soon a fantastic new book on the design and complexity of the cell that Drs. Tomkins and Jeanson completed for us last year. This highly visual, hardcover book will be a wonderful addition to the many signature titles for which ICR has been best known through the decades. In addition, Dr. John Morris, ICR's president, completed a manuscript titled The Global Flood that will be released later this year as a great new resource in keeping with the success of his recent book The Fossil Record, now in its third printing.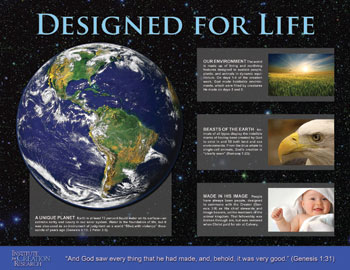 Dr. Rhonda Forlow collaborated with our designers and scientists to create a brand-new science teaching poster last fall called Designed for Life, especially made for junior high and high school teachers to use in Christian schools and in the homeschool setting. This is the fifth teaching poster in our annual series. These posters are always a great hit as giveaways at our K-12 education seminars and conventions.
Expanding into the Digital Age
In July, ICR expanded its media and broadcast emphasis, upgrading the video production studio at our Dallas headquarters in order to create a variety of promotional and teaching programs for our seminars and conferences, as well as for a new generation of viewers who need exposure to creation truth through a variety of digital avenues.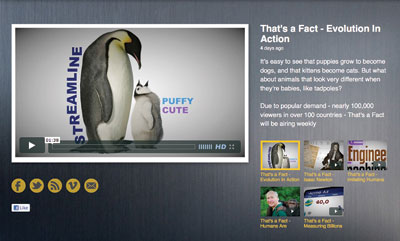 One video production that's been a hit around the world is the new weekly show called That's a Fact (www.icr.org/thats-a-fact), designed to give one creation truth in two minutes or less. The goal of these fun video shorts is to capture the attention of those in the 21st century who depend more on digital devices and the Internet for their information. Professionally produced in ICR's studio, That's a Fact airs each week to an audience in over 100 countries. The new show had nearly 100,000 hits on its show site in the first three months of its launch. And this is just one of the many new shows that ICR will be using to teach biblical creation apologetics to up and coming generations.
Communicating the message of creation at ICR involves many dedicated staff who labor to provide easy access to biblical and scientific evidences. Did you know that ICR's website contains some 12,000 pages of articles and information for study? ICR's great Internet ministries team ensure that you have access to this content each and every day, allowing you to read short, pithy articles in our Daily Science Updates, devotionals from our Days of Praise, or articles from our Acts & Facts magazine. Even technical science articles can be found on our research pages for those who want to dig even deeper.
Running the Race
ICR is committed to providing easily accessible content about the Bible and science that is biblical and accurate, carefully developed and reviewed by our experts, and creatively presented by our Communications and Internet staff in order to reach those who still love to hold a book or magazine in their hands, as well as those who prefer to absorb our material on their phones, tablets, or laptops.
Faithful readers like you around the world bring us great encouragement with your Letters to the Editor and, of course, through your generous financial support of our work. Know that ICR will not waver in its commitment to the biblical creation message, to the accuracy of the Genesis record, and to the creative communication of these truths now and for generations to come.
* Mr. Ford is Executive Editor at the Institute for Creation Research.
Cite this article: Ford, L. 2012. Celebrating 50 Years. Acts & Facts. 41 (1): 4-7.