Sea Worm Is 'Man's Ancestor'
by Frank Sherwin, M.A. | Jul. 25, 2016
On July 7, BBC News reported the rare discovery of a fossilized sea worm, classified as a hemichordate, a sophisticated invertebrate. Evolutionists are excited because this find supposedly provides insight into early evolution. And some evolutionists even see this worm—called Oesia—as a half-billion-year-old ancestor of man.1
Hemichordates—the acorn worms inhabiting ocean sediments today—are anything but simple. They are designed with a net-like nerve plexus containing giant nerve cells, pharyngeal gill slits, glomerulus, longitudinal and circular muscle, and unique embryonic development.
But what do scientists know for sure regarding this new supposedly ancient fossil? Clearly, like its modern version, it's quite a complex creature. The article states Oesia "had U-shaped gills running down most of the length of its body, to enable filter feeding." The fossil showed the sea worm lived inside a sophisticated tube-like structure that served as a protective house. But to say this worm is our ancestor is a wholly unwarranted extrapolation.
Contrary to what the BBC article states, this half-billion-year-old fossil does not give scientists any "new insights into how early creatures evolved." It's merely a sea-worm fossil much like sea worms alive today. Indeed, in 2013 three evolutionists said, "Hemichordate [evolution] has long remained problematic."2 British paleontologist Michael Benton stated, "The [evolutionary history] of hemichordates is actively debated."3 and six evolutionists said, "Hemichordate [evolutionary history] has long been puzzling."4
The amount of extrapolation needed to jump from sea worm to human is absolutely incredible. Evolutionists are simply speculating from something known to something unknown using conjecture and lots of imagination, rather than relying on an empirical process.
The fact that no undisputed transitional fossils exist doesn't seem to thwart evolutionary extrapolation nor wild claims, like we see in this story, of an ancestral connection between sea worms and humans. There must be a better scientific explanation.
Creation scientists view this Oesia fossil as an ocean bottom-dwelling sea worm buried suddenly during the first stage of the Genesis Flood.
References
Sea worm fossil gives clues to 'common ancestor.' BBC News, Science & Environment. Posted on July 7, 2016, accessed July 8, 2016.
Caron, J., et al. 2013. Tubicolous enteropneusts from the Cambrian period. Nature. 495 (7442): 503-506.
Benton, M. 2014. Vertebrate Paleontology, 4th ed. Malden, MA: Wiley-Blackwell, 5.
Hickman, C., et al. 2011. Integrated Principles of Zoology, 15th ed. New York: McGraw-Hill, 496.
Image Credit: Copyright © 2015 J. Gerhart. Adapted for use in accordance with federal copyright (fair use doctrine) law. Usage by ICR does not imply endorsement of copyright holder.
*Mr. Sherwin is Research Associate, Senior Lecturer, and Science Writer at the Institute for Creation Research.
Article posted on July 25, 2016.
Proteins in '2-Billion-Year-Old' Rock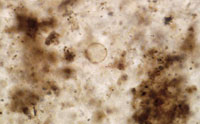 Rock researchers highly regard Ontario's Gunflint chert for its fresh-looking microfossils. Long ago, the chert's microcrystalline quartz grains embedded microscopic single-celled creatures, including algae. A research team used new techniques to analyze the chemicals inside these fossil cells. They found protein remnants where they should no longer exist—given these rocks' vast age assignment.
More...
Should We Drop the Term 'Living Fossil'?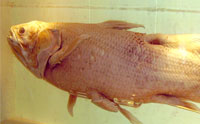 Mark Carnall at the Oxford University Museum of Natural History recently wrote an article for the U.K. newspaper The Guardian. He argues that we should stop using the term "living fossil." What does his argument reveal about evolutionary thinking?
More...
Six Days of Creation, Part 1 [Podcast]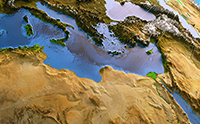 The book of Genesis lays the groundwork for the Christian belief system. It is the foundation of everything that God has undertaken on behalf of humanity. Therefore, we need a correct understanding of Genesis in order to correctly understand our identity, our responsibility, and our future. Should we treat the Genesis account as historical fact? Should we believe in a literal creation? What does Genesis say about what and how God created?
More...
Stunning Amber Bird Wings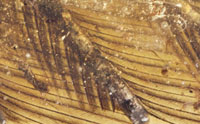 Newly described bird wings—not just a single feather or a strange-looking fiber or two—rose to the top of a long list of spectacular amber-trapped fossils. Two tiny hatchlings may have seen dinosaurs just before their wings got trapped in fast-flowing tree resin. At least four waves of the magic evolutionary wand would be needed to shove these unique fossils into deep time.
More...
More Articles