Mosasaur Babies: Aren't They Cute?
by Tim Clarey, Ph.D. | Apr. 20, 2015
We often hear claims that birds are similar to dinosaurs, but birds and mosasaurs? Mosasaurs were swimming reptiles. How can they be confused with birds? A recent study published in Palaeontology by Yale University's Daniel Field and his colleagues clears up some of this confusion and in the end, illustrates a mosasaur lifecycle of marvelous design.1
Field and his fellow scientists dusted off two sets of century-old fossils from the Yale University collection that were found in Kansas chalk beds. They were originally identified as remnants of some unknown bird, since they primarily consisted of teeth and jaw pieces. After taking detailed measurements of the bone fragments, Field and his colleagues soon realized these were not birds—they had identified very rare newborn mosasaurs!
"Really, the only bird-like feature of the specimens is their small size," reported Aaron LeBlanc, one of the co-authors of the Palaeontology study.2
Mosasaurs are extinct swimming reptiles that grew up to 50 feet long and their fossils have been found in Flood sediments3 on every continent, even Antarctica. They are especially common in the Cretaceous system rocks of western Kansas, where these two specimens originated.1
Until now, however, no one knew if mosasaurs crawled on land and laid eggs like sea turtles, or if they gave live birth in the open ocean like ancient ichthyosaurs and some species of modern sharks. These new findings suggest mosasaurs were exclusively aquatic and birthed their babies in open water. This adds support to the recent discovery of a mosasaur hypoceral tail (larger at the base of the tail), also suggesting a completely watery lifecycle.4
Although the fossils provide no direct proof of mosasaur live birth, the scientists point out other marine fossils from the same rocks that housed the baby mosasaur bones appear to be from an ancient open sea.1 This sea, known as the Cretaceous Interior Seaway, supposedly extended across much of the center of North America. Was it an ancient sea or part of the great Flood deposits from just thousands of years ago?
Some of the fossils found in these same rocks give clues that refute the Cretaceous Interior Seaway story. They indicate a recent Flood extended across North America that transported deep sea creatures far inland in tsunami-like waves, burying mosasaurs and other marine creatures in a series of violent events. And the rocks provide no evidence that these fossils are millions of years old. To the contrary, preserved soft tissues found in a similar Kansas mosasaur contain partly decayed hemoglobin proteins still colored red.4 The fact that these proteins and pigment are still present strongly suggests these rocks are much younger than claimed by secular scientists and confirms a recent Flood as described in Genesis.
Live birth has been documented in other marine swimming reptiles, like the ichthyosaur. It is no surprise that scientific evidence is accumulating that other seafaring reptiles did not lay eggs. Whether or not the newborn reptiles needed parental care for a time is harder to ascertain from the rocks and fossils. Animal behavior and social interaction is best learned by observing living specimens.
The ability to give live birth in water is a complex feat that defies evolutionary explanation. One thing is certain: God's design for mosasaurs was perfect right down to the way they were born.
References
Field, D. J., et al. 2015. Pelagic neonatal fossils support viviparity and precocial life history of Cretaceous mosasaurs. Palaeontology. Posted April 10, 2015. doi: 10.1111/pala. 12165: 1-7.
Shelton, J. 2015. Giant sea lizards in the age of dinosaurs: A new beginning for baby mosasaurs. ScienceDaily. Posted April 10, 2015, accessed April 13, 2015.
Flood sediments are commonly recognized as sedimentary rocks that contain numerous multi-cellular fossil organisms. Thousands of feet of these rocks were deposited in many locations across all of the continents during the world-wide Flood.
Lindgren, J., et al. 2013. Soft tissue preservation in a fossil marine lizard with a bilobed tail fin. Nature Communications. 4 (2423):1-8.
Image credit: 2015 J. Csotonyi. Adapted for use in accordance with federal copyright (fair use doctrine) law. Usage by ICR does not imply endorsement of copyright holders.
* Dr. Tim Clarey is a Research Associate at the Institute for Creation Research.
Article posted on April 20, 2015.
No Salamander Evolution Evidence, Past or Present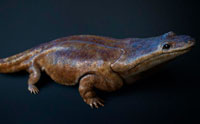 Scientists in Portugal unearthed a "super salamander" which, although "weird compared to anything today," is still very much a salamander. The fossilized bones of the six-foot animal were discovered on a hillside dig "chock-full" of bones and declared to originate from the "Upper Triassic" period, some 200 million years ago according to evolutionary dating. But creationists see this as yet another discovery of a created animal that grew to large dimensions in the fertile world before the Flood, and was subsequently buried during the Flood itself. More...
Myths Dressed as Science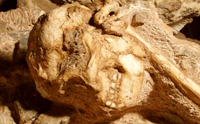 A recent MSN article claims a fossilized hominid called "Little Foot" found near Johannesburg, South Africa, is approximately 3.67 million years old, as does a similar report in ScienceNews. Both articles provide insufficient detail to make an intelligent evaluation of the method used to arrive at the stated conclusion, and as such that conclusion must be regarded as suspect. More...
Saturn's Enceladus Looks Younger than Ever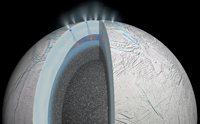 The more we learn about Enceladus, the younger it looks. Stated another way, the more that our space probes discover about this fascinating little moon that inhabits Saturn's tenuous E ring, the more challenging it becomes for conventional origins to explain. A new discovery adds to the list of young-looking Enceladus features. More...
Another Horizontal Gene Transfer Fairy Tale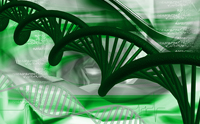 As the genomes of many new creatures rapidly fill the public DNA sequence databases, the problems for the grand evolutionary story are becoming overwhelming. One issue is the fact that different creatures have unique sets of genes specific to their kind with no apparent evolutionary history. To explain this glaring problem, evolutionists have resorted to the myth of pervasive horizontal gene transfer. More...
More Articles