Dinosaur Moth: An Evolutionary Enigma
by Jake Hebert, Ph.D. | Mar. 30, 2015
Scientists discovered a tiny moth on Australia's Kangaroo Island and gave it the name Enigmatinea glatzella. The name is quite descriptive, as Enigmatinea means "enigma moth" in Latin.1,2 But why is this moth an enigma to evolutionary scientists?
Today's living representatives of this moth have "basically the same features" as their ancestors, which evolutionists claim lived forty to fifty million years ago.3 Hence, virtually no evolution has occurred in all that supposed time! Ted Edwards, one of the scientists tasked with describing the new moth family said, "It's really quite remarkable because it means that the ancestral line has continued right through without changing a lot of its basic structures."1
For this reason, scientists are calling Enigmatinea glatzella a "dinosaur moth." Since, in evolutionary thinking, dinosaurs became extinct 65 million years ago, the discovery of living representatives of a creature that is at least forty million years old is as remarkable as discovering a living dinosaur.
The lack of evolution is even more surprising when one realizes that the moth has an extremely short lifespan: These dinosaur moths emerge from their cocoons, mate, lay eggs, and die within a single day. Although the total lifespan (egg to adult) of the dinosaur moth is apparently not well-known, other short-lived moths have total lifespans of about a month.4 This means that hundreds of millions of generations of dinosaur moths could easily have lived and died in this supposed forty-million-year interval. Even though death is the engine that supposedly drives evolution, essentially no evolution has occurred in all that alleged time.
Furthermore, this discovery calls into question previous secular beliefs about moth evolution. Constructing a new moth phylogeny (evolutionary lineage) that takes into account the existence of this newly-discovered moth requires, in the words of the paper's authors, "an additional number of ad hoc assumptions."2
This moth is just one more example of a "living fossil," a creature whose living representatives are not significantly different from their fossilized ancestors, despite the alleged passage of millions of years.5,6,7,8 Of course, this lack of evolution is exactly what one would expect to find in nature since God created all flying creatures—including moths—to reproduce "according to its kind" (Genesis 1:21).
References
Image credit: Copyright © 2015. CSIRO Ecosystem Sciences. Adapted for use in accordance with federal copyright (fair use doctrine) law. Usage by ICR does not imply endorsement of copyright holder.
*Dr. Hebert is Research Associate at the Institute for Creation Research and received his Ph.D. in physics from the University of Texas at Dallas.
Article posted March 30, 2015.
Twins Provide Peek Into Mankind's Origin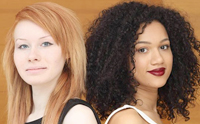 Lucy and Maria Aylmer are 18-year-old twins from the United Kingdom. They were born on the same day from the same mother, yet one has light skin and hair, and the other has dark skin and dark, curlier hair. Their unique story illustrates how human-trait variations found around the world could have arisen suddenly in Noah's offspring. More...
Heads, Evolution Wins--Tails, Creation Loses?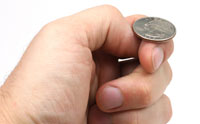 Wouldn't two billion years of mutations and changing environments inevitably produce some effects in an organism? After all, in only a quarter of that supposed time, evolutionary processes are said to have transformed fish into people. Mutations supposedly occur nonstop, but the authors of a new paper now say that creature stasis proves evolution. More...
Spiders Have Always Been Spiders
A University of California Berkley graduate student has discovered two beautiful new species of peacock spiders in southeast Queensland, Australia. The student, Madeline Girard, named the two colorful creatures "Sparklemuffin" and "Skeletorus," both of the genus Maratus. Are these splendid specimens highly evolved species or have spiders always been spiders? More...
Live Webcasts March 18 and 22!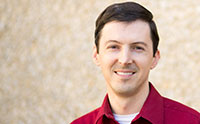 Get a front-row seat to "Science Confirms Biblical Creation" and "Your Origins Matter" in the comfort of your own home as ICR astrophysicist Dr. Jason Lisle shares biblical and scientific truths. Go to ICR.org/webcast at 7:00 p.m. PDT on Wednesday, March 18, and 9:00 or 10:30 a.m. PDT on Sunday, March 22, to view these engaging presentations. More...
More Articles