Thanksgiving
by Henry M. Morris, Ph.D. | Nov. 26, 2015
"Being enriched in every thing to all bountifulness, which causeth through us thanksgiving to God." (2 Corinthians 9:11)
The themes of praise and thanksgiving are very prominent throughout Scripture. The word "praise" and its derivatives occur over 330 times, and "thanks," with its derivatives, over 150 times. When applied to our relation to God, "thanks" are given to Him for what He has done for us, and "praise" for who He is and what He has done for the whole creation. If frequency of occurrence were an indicator, we might conclude that thanksgiving is important and praise-giving is twice as important!
In any case, every Christian believer has a tremendous amount to be thankful for. As in our text, we have been "enriched in every thing to all bountifulness," and it is sad to hear so many complaints and laments coming from Christians who feel they deserve more and better than they have already received from God's good hand.
We are told that the Lord Jesus, instituting the Lord's supper, gave thanks, all the while knowing that the very elements He was blessing spoke of His body that would soon be broken and His blood that would soon be shed. No wonder, therefore, that the apostle Paul reminds us: "In every thing give thanks: for this is the will of God in Christ Jesus concerning you" (1 Thessalonians 5:18).
Whether in bountifulness of material blessing or in the invaluable school of suffering and discipline, we can please God by a thankful heart and life. A key evidence that a Christian is truly "filled with the Spirit" is that he or she is habitually "giving thanks always for all things unto God and the Father in the name of our Lord Jesus Christ" (Ephesians 5:18, 20). May God's Spirit "cause through us thanksgiving to God!"
*Dr. Henry M. Morris (1918-2006) was Founder and President Emeritus of ICR.
Article posted on November 26, 2015.
Pluto's Craterless Plains Look Young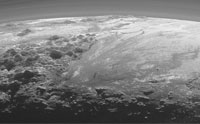 Earlier this year, New Horizons flew past dwarf planet Pluto and its sister Charon, rapidly capturing data. That information continues to trickle in, revealing a surprisingly smooth heart-shaped plain called "Tombaugh Regio." The countless craters expected from billions of years' worth of impacts are nowhere to be found. More...
Fossil Shrimp Brains Look Modern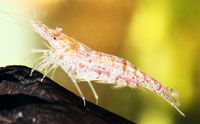 Cambrian rocks are supposed to represent a time about 500 million years ago when ancient muds buried some of the first creatures that evolved on Earth. Today's array of life forms supposedly emerged from those "simpler" beginnings. But intriguing Cambrian discoveries, including newly described arthropod fossils from China, keep clashing with these out-of-touch ideas. More...
Unexpected Oxygen on Young-Looking Comet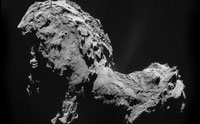 The European Space Agency's Rosetta probe travelled all the way to comet 67P/Churyumov-Gerasimenko to collect unprecedented cometary details. The space probe keeps sending unexpected particulars about the comet—particulars with implications far beyond the comet itself. More...
2015 Nobel Prize Highlights Cell Repair Mystery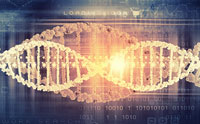 Three scientists were awarded the 2015 Nobel Prize in Chemistry for uncovering how human cells repair their own DNA. DNA repair mechanisms keep us alive, and understanding them undergirds a fuller comprehension of how cells work and fend off the disastrous consequences of too many mutations. The research of these three men implies that cells have always used DNA repair mechanisms, thus uncovering evolutionary mysteries that have not yet found sensible solutions. More...
More Articles