Echolocation
by No Author | Jul. 28, 2014

While bats live in air and dolphins live in water, both use a biological form of sonar technology called echolocation to see with sound! The specifications in dolphin and bat biosonar systems are so many, so well-integrated, and so precise, could they really have developed at random in two completely different environments?
Click here to see the That's a Fact video.
Fossilized Brain May Give Paleontologists Headache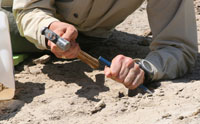 Who has ever heard of a fossilized brain? Few would expect such a discovery, yet it looks like that's what researchers found inside a Stone Age skull from Norway. If so, it would confirm a published creation prediction and challenge many evolutionary timescales. More...
NASA's Far-Out Search for Life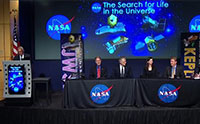 NASA promoters discussed the hope of discovering life on other planets at a recent meeting in NASA headquarters. Despite billions of dollars spent over the decades-long search and the fact that not one shred of distant life evidence has been found, NASA continues to suggest that life might really be out there and that its discovery is within reach. More...
Circular Arguments Punch Holes in Triceratops Study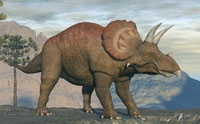 The eleven-year Hell Creek Project involved collecting fossils from the famous Montana Hell Creek Formation, including over fifty Triceratops specimens. The latest report from the project, however, reveals three "logic holes" in its attempts to answer questions about when and how these dinosaurs evolved. More...
Second Look Causes Scientist to Reverse Dino-Bird Claim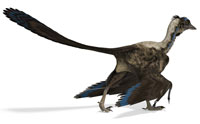 Stephen Czerkas digs dinosaurs. His early advocacy for feathered dinosaurs makes his recent reversal that much more remarkable. His reexamination of a fossil—one that had been known as a feathered dinosaur—reveals the fruits of taking a closer look at spectacular claims. More...
More Articles