Why It Was a 'Good' Friday
by Henry Morris III, D.Min. | Apr. 18, 2014
"As soon as it was day, the elders of the people, both chief priests and scribes, came together and led Him into their council." (Luke 22:66)
The origin of "Good Friday" ceremonies are somewhat muddled in history. Some suggest that the earlier roots go back as far as 100 A.D., but others insist that it was well into the fourth century before anything like the "passion week" observances became established.
Beyond that, there is a good bit of controversy about the title itself. Everyone now agrees that the focus of the dedication is on the crucifixion of our Lord. So, why "Good" Friday? Why not "Sad" Friday, or "Awful" Friday? Although historians and theologians tend to focus on the etymology of the term and debate the circumstances by which the ceremony became identified, the truth may well lie in the sovereignty of God Himself.
On that day in history, the sins of the world were paid for! This was the day on which "it pleased the Lord to...make his soul an offering for sin" (Isaiah 53:10). That day, the Lord "laid on him the iniquity of us all" (Isaiah 53:6).
Yes, there was great sorrow and travail that day. During the awful physical darkness from noon to 3:00 p.m. (Matthew 27:45), Jesus had cried out in utter anguish: "My God, My God, why have you forsaken me?" (Matthew 27:46). The earth itself shook and rumbled as the creation was torn asunder in reaction to the horrific judgment of the Creator for sin (Matthew 27:51).
But then came the victory cry, "It is finished!" (John 19:30), and, "Father, into Your hands I commit my spirit" (Luke 23:46). His suffering ended, the payment completed, eternal propitiation accomplished, Jesus laid down His human life to await the great resurrection that God might give "assurance of this to all by raising Him from the dead" (Acts 17:31).
* Dr. Morris is Chief Executive Officer of the Institute for Creation Research.
Fossil Plant Chromosomes Look Modern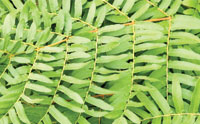 As mere fragments, most fossils reveal only small hints of ancient life forms. But a fossilized fern's stem recently discovered in Sweden shows its every detail, sending some clear messages about its origin. More...
Former Junk DNA Candidate Proves Indispensable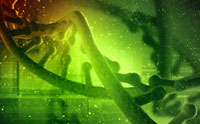 Some of the primary candidates for being labeled "Junk DNA" have been the highly repetitive regions of the genome that, after years of study, seemed to have no discernable function. However, new research has shown that the RNAs encoded by these regions are key players in promoting genome stability and function. More...
Students Surprised to Find Noah's Ark Feasible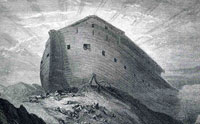 Advanced physics students at Leicester University were tasked with determining if the Biblical dimensions of Noah's ark could have supported the weight of 70,000 animals. What did they find? More...
Dual-Gene Code Discovery Highlights Designed Biocomplexity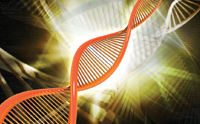 Recent evidence of dual codes in the protein-coding sections of genes raised the bar on our understanding of genome complexity, and now a new study is showing that the control regions of genes contain dual codes as well. More...
More Articles