Dig Deeper into ICR Research

Demand the evidence! As our research projects yield results, we will publish in-depth details in the technical literature, and summaries for the layperson in Acts & Facts, ICR's monthly magazine. Stay tuned to learn the main findings of our studies into the science of origins.
Magazine Articles
Embracing Catastrophic Plate Tectonics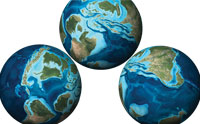 Some Christians hesitate to embrace the notion that the earth's outer surface is moving—and moved even more dramatically during the Flood year. However, tremendous amounts of empirical data suggest significant plate movement occurred just thousands of years ago.
Much of these data are independent of secular deep time and the geologic timescale. In addition, the catastrophic plate tectonics model offers a mechanism for the flooding of the continents, the subsequent lowering and draining of the floodwaters, and a cause for the post-Flood Ice Age. More...
Previous Acts & Facts Impact Articles
For a full listing of Acts & Facts Impact articles, click here.
Other Publications
Technical Journal Articles

View research results and reports published by creation scientists and scholars here. More...
To find other ICR resources, use our Advanced Search feature.