Dig Deeper into ICR Research

Demand the evidence! As our research projects yield results, we will publish in-depth details in the technical literature, and summaries for the layperson in Acts & Facts, ICR's monthly magazine. Stay tuned to learn the main findings of our studies into the science of origins.
Magazine Articles
The Flood, Catastrophic Plate Tectonics, and Earth History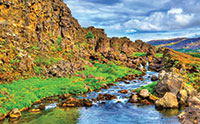 Although evolutionary scientists insist there is no evidence for the global, Earth-destroying Flood described in Genesis, accepting the Genesis Flood as literal history enables researchers to make sense of a wide array of geological, climatic, and cultural data. The creation-Flood model is much more robust and has much more explanatory power than secular Earth history stories.
More...
Previous Acts & Facts Impact Articles
For a full listing of Acts & Facts Impact articles, click here.
Other Publications
Technical Journal Articles

View research results and reports published by creation scientists and scholars here. More...
To find other ICR resources, use our Advanced Search feature.