Dig Deeper into ICR Research

Demand the evidence! As our research projects yield results, we will publish in-depth details in the technical literature, and summaries for the layperson in Acts & Facts, ICR's monthly magazine. Stay tuned to learn the main findings of our studies into the science of origins.
Magazine Articles
Trees: An Engineering Wonder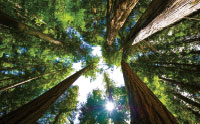 There are few things more beautiful and soothing than walking through a forest or grove of trees. Scripture has much to say about these majestic woody perennials, from the "fruit tree that yields fruit according to its kind" (Genesis 1:11) to "the tree of life" that will be freely accessible to all believers (Revelation 22:2). A number of tree varieties are cited in the Bible, including cedar, oak, olive, and fig. Creationists maintain that trees have always been trees in all of their majestic beauty and design. More...
Previous Acts & Facts Impact Articles
For a full listing of Acts & Facts Impact articles, click here.
Other Publications
Technical Journal Articles

View research results and reports published by creation scientists and scholars here. More...
To find other ICR resources, use our Advanced Search feature.