Dig Deeper into ICR Research

Demand the evidence! As our research projects yield results, we will publish in-depth details in the technical literature, and summaries for the layperson in Acts & Facts, ICR's monthly magazine. Stay tuned to learn the main findings of our studies into the science of origins.
Magazine Articles
Rare-Earth Clocks, Sm-Nd and Lu-Hf Dating Models 2: Radioactive Dating, Part 6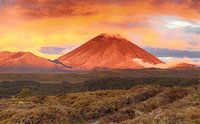 This series has summarized radioisotope dating models, their assumptions, and how those assumptions mistakenly lead to a "deep time" picture of our universe.
Using the various types of radioisotope decay as clocks does not produce consistent results, nor are those results verifiable by observational evidence. If these methods do not properly date rocks of known ages—some less than a century old—how can we trust them to date rocks of unknown ages? More...
Previous Acts & Facts Impact Articles
For a full listing of Acts & Facts Impact articles, click here.
Other Publications
Technical Journal Articles

View research results and reports published by creation scientists and scholars here. More...
To find other ICR resources, use our Advanced Search feature.