Dig Deeper into ICR Research

Demand the evidence! As our research projects yield results, we will publish in-depth details in the technical literature, and summaries for the layperson in Acts & Facts, ICR's monthly magazine. Stay tuned to learn the main findings of our studies into the science of origins.
Magazine Articles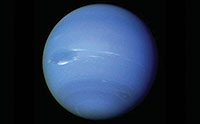 The year was 1989. A small, unmanned space probe rapidly approached the mysterious and unexplored planet Neptune. Voyager 2 had traveled over four billion miles during its 12-year mission and was about to become the only spacecraft to visit distant Neptune. Astronomers all over the world waited eagerly for the first high-resolution images. What wonderful secrets would be revealed? More...
Acts & Facts
For a full listing of Acts & Facts Impact articles, click here.
Other Publications
Technical Journal Articles

View research results and reports published by creation scientists and scholars here. More...
To find other ICR resources, use our Advanced Search feature.