Dig Deeper into ICR Research

Demand the evidence! As our research projects yield results, we will publish in-depth details in the technical literature, and summaries for the layperson in Acts & Facts, ICR's monthly magazine. Stay tuned to learn the main findings of our studies into the science of origins.
Magazine Articles
Darwin vs. Genetics: Surprises and Snags in the Science of Common Ancestry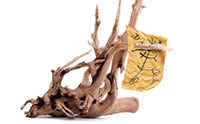 For over 150 years, Darwin's hypothesis that all species share a common ancestor has dominated the creation-evolution debate. Surprisingly, when Darwin wrote his seminal work, he had no direct evidence for these genealogical relationships. Now, with online databases full of DNA-sequence information from thousands of species, the direct testing of Darwin's hypothesis has finally commenced. More...
Previous Acts & Facts Impact Articles
For a full listing of Acts & Facts Impact articles, click here.
Other Publications
Technical Journal Articles

View research results and reports published by creation scientists and scholars here. More...
To find other ICR resources, use our Advanced Search feature.