Dig Deeper into ICR Research

Demand the evidence! As our research projects yield results, we will publish in-depth details in the technical literature, and summaries for the layperson in Acts & Facts, ICR's monthly magazine. Stay tuned to learn the main findings of our studies into the science of origins.
Magazine Articles
The Noble Clock: Radioactive Dating, Part 3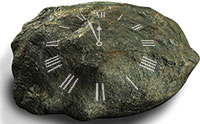 Radioactive dating methods—many of which are quite elaborate—have numerous physical condition requirements that cannot realistically remain unaffected over millions and perhaps billions of years. Since the potassium-argon dating methods clearly appear to be unreliable, why should any rational person trust them to provide accurate dates for rocks? More...
Previous Acts & Facts Impact Articles
For a full listing of Acts & Facts Impact articles, click here.
Other Publications
Technical Journal Articles

View research results and reports published by creation scientists and scholars here. More...
To find other ICR resources, use our Advanced Search feature.