Dig Deeper into ICR Research

Demand the evidence! As our research projects yield results, we will publish in-depth details in the technical literature, and summaries for the layperson in Acts & Facts, ICR's monthly magazine. Stay tuned to learn the main findings of our studies into the science of origins.
Magazine Articles
Rare-Earth Clocks, Sm-Nd and Lu-Hf Dating Models: Radioactive Dating, Part 5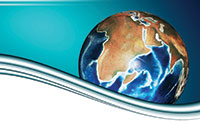 Past articles in this series have attempted to establish a foundation for understanding the radioisotope dating models or hypotheses, their assumptions, and how those assumptions lead to a "deep time" picture of our universe. Secularists would have us accept their convoluted, circular arguments as scientific fact simply because the majority of people in the academic community embrace them. More...
Previous Acts & Facts Impact Articles
For a full listing of Acts & Facts Impact articles, click here.
Other Publications
Technical Journal Articles

View research results and reports published by creation scientists and scholars here. More...
To find other ICR resources, use our Advanced Search feature.