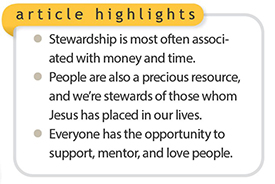 Many people relate stewardship to managing money. When they consider their resources, money comes to mind, along with vehicles, homes, investments, clothes, and so on. But how often do we include people when we think about stewardship?
The Greek word for stewardship in the New Testament is oikonomos, which is translated "household manager." In the Christian context, it involves being responsible for managing the resources the Lord has entrusted to us. A steward is accountable to the "master" or owner of the resources. The master has entrusted the steward with something of value, and his desire is that these resources are managed, or stewarded, appropriately and effectively.
In Job 41:11, the Lord says, "Everything under heaven is Mine." Colossians 1:16 states, "All things were created through Him and for Him." This definitely includes people. God says in Genesis 1:26, "Let Us make man in Our image," and David proclaims in Psalm 139:13, "For You formed my inward parts; You covered me in my mother's womb." God affirms in Jeremiah 1:5 that "before I formed you in the womb I knew you." Clearly the Lord has an intimate, vested interest in people. So much so that He took on flesh and came to pay the penalty for our sins and restore us to a right relationship with Him. Jesus loves people!
The Bible is about relationships. Loving the Lord Jesus Christ and being in a right relationship with Him are of paramount importance, and next to that is loving those around you (Matthew 22:36-40). When we show love for one another, it honors the Lord Jesus. We love others because He loves them and He loves us. As stewards of the many things God has entrusted to us, we should purposefully consider the people He has placed in our lives.
For a moment, reflect on the people in your life and know that there will be a day when you'll give an account to the Lord for how you looked after them (2 Corinthians 5:10). Did you care for them like He would? Are they better for having known you, worse, or unchanged? Being a good steward of people means caring for, encouraging, protecting, and even correcting when necessary.
What are some ways we can care for the people around us?
1. "Bear one another's burdens, and so fulfill the law of Christ" (Galatians 6:2). Help those around you become stronger in their faith. Prioritize the people closest to you and then work outward. What a blessing it is to assist those under your influence to better understand their gifting so they can be effective in their work for the Lord.
2. "As each one has received a gift, minister it to one another, as good stewards of the manifold grace of God" (1 Peter 4:10). Use your gifts to minister to the body of Christ.
3. "Sanctify the Lord God in your hearts, and always be ready to give a defense to everyone who asks you a reason for the hope that is in you, with meekness and fear" (1 Peter 3:15). Equip those around you with God's truth. Along with Acts & Facts and our daily devotional Days of Praise, ICR provides many resources to aide in this endeavor.
4. Finally, pray for them! "Confess your trespasses to one another, and pray for one another, that you may be healed" (James 5:16). Prayer is a vital resource in a believer's life. As part of your regular prayer time, pray for the Holy Spirit to work in the people and relationships in your life.
As a Christ follower and steward of the King, look at others as fellow servants and stewards of the resources He's entrusted to us so that together we can fulfill God's purposes. And if anything seems too difficult, we can always ask Him for help (James 1:5).
Remember, the stewardship of someone begins the moment they enter your life and only ends when the Lord decides. Consider how ICR can help you steward the people in your life.
* Mr. Kinman is Director of the Institute for Creation Research's Discovery Center for Science & Earth History.