"And Abram said, Behold, to me thou hast given no seed: and, lo, one born in my house is mine heir. And, behold, the word of the LORD came unto him, saying, This shall not be thine heir; but he that shall come forth out of thine own bowels shall be thine heir." (Genesis 15:3-4)
Right after Abram's meeting with Melchizedek, God verified and amplified His promise to him with the added insights that God would be Abram's "shield" and "reward" (
Genesis 15:1
). The preceding years had been somewhat difficult for Abram, and he needed assurance that the One he believed in was both his Savior and Provider.
The Lord walked Abram through an elaborate covenant ceremony (
Genesis 15:9-21
) in which He told Abram much of the future and reiterated the promise that God would give the land to Abram and his descendants. Given the personal visit, Abram would have been expectant of some indication of the fulfilment of the promise of an heir and the coming "nations," but it would be a total of 25 years before Abram saw the fulfilment of that promise.
Nothing. No visible evidence of God's promise was forthcoming. Others failed (Lot most noticeably), and Sarai herself gave up after 11 years and insisted that Abram bear her a child through Hagar, her handmaid (
Genesis 16:15
).
Finally, when Abram was 99, God appeared before him again and issued the command: "I am the Almighty God; walk before me, and be thou perfect" (
Genesis 17:1
). Isaac would be born the next year, but the complete fulfillment of that promise is yet to be realized (
John 11:25-26
;
Mark 13:13
). HMM III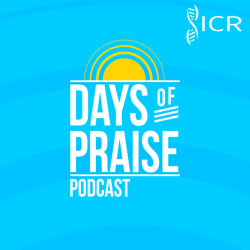 Days of Praise Podcast is a podcast based on the Institute for Creation Research quarterly print devotional, Days of Praise. Start your day with devotional readings written by Dr. Henry Morris, Dr. Henry Morris III, Dr. John Morris, and others to strengthen and encourage you in your Christian faith.