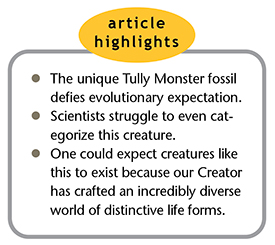 The pre-Flood world was teeming with some pretty amazing animals. Then the Flood came, rapidly burying and entombing trillions of creatures in sediments that lithified into rocks such as shale, limestone, and sandstone.
A fossil of one of the more unusual animals was discovered in Illinois in 1958, a bowling-pin-size creature called Tullimonstrum gregarium or the Tully Monster. Tullimonstrum has a grasping mouth with tiny, sharp teeth on a long neck, a squid-like tail with ventral and dorsal fin lobes, and eyes at the end of long, narrow stalks, or "bar" organs. Looking like a visitor from an alien world, this was a creature with a strange body plan and bizarre appearance!
In terms of Tully Monster's unique anatomy, it's much like the comical platypus, which has the combined traits of a mammal, a bird, and a reptile. Just so, at various times the Tully Monster has been considered an arthropod, a snail without a shell, and a jawless fish.
Evolutionary dating alleges it to be 300 to 307 million years old. The body plan is so strange that zoologists aren't even sure whether it's a vertebrate or an invertebrate. Recently, some scientists decided they'd found the answer.
Now, after decades of studies, each with a different take on how to define the weird aquatic creature, the Tully monster has been decoded: It's a vertebrate, meaning it had a backbone, a new study finds.1
But after analyzing the creature's unique eye anatomy using "a type of particle accelerator called a synchrotron radiation lightsource," other zoologists aren't convinced of that.
We also found that Tully's eyes contain [a] different type of copper to that found in vertebrate eyes. But the copper also wasn't identical to that in the invertebrates we studied. So, while our work adds weight to the idea that Tully is not a vertebrate, it doesn't clearly identify it as an invertebrate either.2
Another group of scientists conducted an investigation by shooting a laser at the Tullimonstrum fossil in a process called Raman microspectroscopy, which is used to measure chemical bonds in carbon-based (organic) compounds.
The work showed evidence of the types of proteins and keratins representative of vertebrates. [The researchers] suggest their findings provide strong evidence that the Tully monster was a vertebrate, though they acknowledge that more work is required to make a final confirmation.3
Whether this creature was a vertebrate or an invertebrate, evolutionists are working with organic compounds that, according to long evolutionary ages, should no longer be there to study at all. Actual organic compounds lasting 300 million years? Decay rates tell us this is impossible.4 The soft tissues of animals (including dinosaurs) and organic material found in the fossil record5—supposedly millions of years old—is simply not predicted by evolution theory.
Indeed, Tully Monster has no evolutionary explanation. According to the prestigious journal Nature, "Its phylogenetic [evolutionary] position has remained uncertain."6 It's just one more controversial creature unearthed from the pre-Flood world destroyed just thousands of years ago that defies a naturalistic explanation. The infinite ingenuity (and perhaps even sense of humor) of our Creator, however, offers a perfect explanation.
References
* Mr. Sherwin is Research Associate at the Institute for Creation Research and earned his M.A. in zoology from the University of Northern Colorado.