Many, O LORD my God, are Your wonderful works which You have done; and Your thoughts toward us cannot be recounted to You in order; if I would declare and speak of them, they are more than can be numbered. (Psalm 40:5)
Recently, I had the chance to teach a series of messages on the Psalms that promise our blessings come through our expected lifestyle in the Kingdom. One of those provided a challenge to brag about the way the Lord has blessed us. It wasn't long before I was listing the spectacular blessings God has allowed ICR to enjoy in addition to our exciting progress in building the ICR Discovery Center for Science and Earth History.
ICR Events
ICR's core mission centers on scientific research into the vast storehouse of empirical evidence that confirms the accuracy of the Scriptures. The seminars, conferences, and speaking engagements we conduct are our more direct public presentations of the "wonderful works" God has allowed us to participate in.
ICR's core mission centers on scientific research into the vast storehouse of empirical evidence that confirms the accuracy of the Scriptures.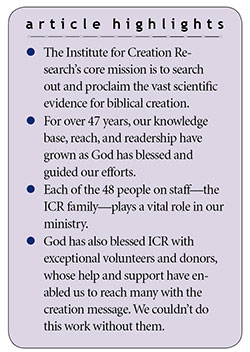 In 2017, ICR speakers were featured in over 100 different venues from classroom events to large auditoriums. The tens of thousands of attendees included many folks who had never heard the creation evidence, adding multiple thousands of readers to ICR's free publications Acts & Facts and Days of Praise. During these public events, ICR gives away far more books than we sell—mostly to pastors and other Christian leaders who, we pray, will use the material to teach others.
ICR incorporated fossil walks into our weekend seminars during 2017. In these, we set up life-size replicas of fossil dinosaur bones and host community schoolchildren and their parents to a series of short lectures around the individual dinosaur exhibits. These fossil walks are always jammed and have become a sought-after feature of our area seminars.
In April, the Lord enabled us to hold a beautiful groundbreaking ceremony as we officially kicked off construction of the ICR Discovery Center. Dr. Robert Jeffress of First Baptist Dallas was gracious to openly endorse the center and lead in public prayer at the ceremony. A short video of that event is available for viewing on our ICR.org website. You might enjoy hearing from some of the key Christian leaders who participated that day.
ICR Research
Although these wonderful works do not get much publicity, this really is the core of what ICR does. Without the ongoing research by our dedicated science staff, ICR (and many other creation ministries) would not have the evidences of the truth of Scripture to show.
Dr. Jeff Tomkins heads up our life sciences research. His definitive analysis of human-chimpanzee DNA similarity used over 2.5 million raw chimpanzee DNA sequences matched onto the human genome. The research showed that chimpanzee DNA can be no more than 85% similar to humans. His research also revealed that many chimpanzee data sets likely contain significant levels of contaminating human DNA and that the chimpanzee genome is not accurately constructed, not only because of human DNA contamination but also due to the fact that the human genome was used as a template to stitch together the chimp DNA sequences.
Dr. Randy Guliuzza continues to emphasize a design-based approach that demonstrates an organism's engineered adaptability. He has uncovered a wide variety of highly regulated genetic and physiological mechanisms that produce rapid, repeatable, and often reversible adaptations that fundamentally change our understanding of living organisms. Evidence shows that living things are active, problem-solving creatures that continuously track environmental conditions to fill new ecological niches, rather than passive units shaped by the environment, as natural selection portrays. Dr. Guliuzza also developed an article series on major evolutionary blunders that highlighted the missing evidence for evolutionary expectations, the resulting blunders, and why they continue to happen.
Dr. Jake Hebert demonstrated the fallibility of an iconic 1976 paper published in the journal Science that constitutes the primary evidence in favor of the dominant secular ice age theory, the astronomical (or Milankovitch) theory. That paper is so important to secular scientists that two very prestigious science journals, Nature and Science, both recently ran articles commemorating this paper's 40th anniversary. Dr. Hebert mathematically proved that the calculations used to support the Milankovitch theory are wrong! While the cause and timing of Ice Age events might seem to be a small issue, in reality they are a key element of the evolutionary story of Earth history, now thrown into question by Dr. Hebert's research.
Dr. Tim Clarey has completed the compilation and input of stratigraphic column data across three continents (North and South America and Africa) and is actively making progress across Europe. Much of this represents oil company data widely respected by the geological community. These efforts allow Dr. Clarey to chart the global Flood's progression across multiple continents. His research provides strong evidence that the Flood was global, with each continent showing similar patterns for the beginning stages of the Flood, successive sedimentary depositions, and the recession of the floodwaters.
Dr. Clarey has also published a variety of articles on various aspects of the controversial cache of bones known as Homo naledi, widely proclaimed to be a human ancestor. He has concluded that these bones were most likely deposited by an Ice Age cave flood and that H. naledi was another type of ape-like Australopithecus, like the famous "Lucy" fossil.
Nuclear physicist Dr. Vernon Cupps' work on the nature of matter and his analysis of the significance of the ICR RATE project have been a wonderful work for those in our ICR family who are technically educated. And Brian Thomas and Frank Sherwin have become fossil and soft-tissue experts, as well as two of the more popular and sought-after speakers among our scientists.
Dr. Jerry Bergman joined ICR at the first of January. We look forward to how God will use his expertise here to further the creation message.
ICR Resources
ICR's regular periodicals, books, DVDs, CDs, ebooks, websites, radio and media production, and social media involvement are a large, wonderful work that God has enabled ICR to engage in. The Acts & Facts monthly magazine has an active readership of over 250,000, and the Days of Praise quarterly devotional is read by over 500,000.
We offer many resources to reach people with the scientific evidence demonstrating God's creation truth. In the last 14 months, ICR produced 12 new books, two four-episode DVD series, six DVD presentations, five CDs, seven That's a Fact videos, seven ebooks, and 77 radio programs. There were 104 news articles released on the opening page of ICR.org. The ICR Facebook page has over 150,000 active followers now, and ICR maintains a highly active presence on Twitter, Instagram, LinkedIn, Pinterest, and Google+. The ICR communications effort has been marvelously empowered by our loving heavenly Father.
ICR Directors
I must brag about the wonderful works the Lord has given to me through those men and women who look directly to me for leadership. Eileen Turner is my Chief Financial Officer. Jayme Durant is the director of our communications department. Chas Morse is responsible for our public events. My earthly son, Henry Morris IV, is charged with donor relations and has recently been heavily involved in design and negotiations for the discovery center exhibits.
Don Barber is the operations director and is the one responsible for the day-to-day interface with the Beck architectural firm now building the discovery center. Chris Kinman heads up sales and distribution at ICR, and Dr. James Johnson is both the chief counsel for ICR and the director of our online educational programs. He is also responsible for coordinating the hundreds of data points that will be absorbed into the exhibit displays, touchscreens, and data tables in the discovery center.
ICR Board Members
Obviously, my most personal interface is with the ICR Board members. Rather than try to tell you how much they have been the wonderful works of our Lord to me, I will give you their names so you can pray for them—Dan Arnold, Richard Bliss, Jack Brady, Mac Brunson, Dan Farrell, Walter Guillaume, Dan Mitchell, and Rober Stadler.
ICR Support Staff
Although these wonderful works of our Lord Jesus operate mostly behind the scenes, ICR would be unable to function without the help of our faithful staff. Our business office people (Beau Patterson, Elizabeth Bearry, Nathan Berryman, Cara Hennessey, and Ruth Ann Wilhoit) keep us within our means and provide an absolutely clean audit each year. The editors and other communications specialists (Susan Windsor, Michael Hansen, James Turner, Michael Stamp, Truett Billups, and Christy Hardy) make the written efforts "sing," the videos and visuals beautiful, and the social media offerings pithy and relevant.
Michael Hansen is also my executive assistant and manages social media. He travels with me on most of my speaking engagements and has been a tremendous help—as a wonderful work of God on my behalf.
The ICR School of Biblical Apologetics support staff (Mary Smith, Rebecca Barber, Ernie Carrasco) keeps our online educational efforts working. The internet team (Seth Trotman and Steve Yearian) keeps our multiple millions of website users happy. The operations staff (Daryl Robbins and Bill West) makes sure the ICR employees are happy! The sales and distribution employees (James Muysenberg, Michael Lane, and Trey Bowling) keep our ICR store stocked, functioning, orders fulfilled, and ICR events prepared.
The donor relations folks (Margie Medford, Eric Bowyer, Kristen Mitrisin, Steve Hopper, Kelli Morris, and Abby Thomas) keep the mailing list up to date, and handle donor contributions and trusts, CGA documents, and personal wills for our ICR donor family.
And finally, our events team (Joel Kautt, Will Perry, and David Sikorski) competently manage the myriad details involved in organizing speaking engagements ranging from single-speaker talks to major conferences.
ICR Volunteers
Another wonderful work the Lord has given ICR is a rapidly growing team of volunteers. These are the families and college and seminary students who answer an email "trumpet" to come stuff envelopes, prepare giveaway packets for the many events, and do the kind of hands-on labor that saves ICR tens of thousands of dollars each year. A few of these folks have become regular helpers working within the routine of our administrative needs or with our science researchers, digging through the internet and/or government databases to pull out the various pieces of information that must be incorporated into our ministry.
As near as we can calculate, these folks have organized 610,000 packets of information over the decade that we have been in Dallas! And as if their volunteer labor is not enough, a majority of these gracious people have become financial donors to ICR as well.
ICR Donors
If any showpiece were needed for God's wonderful works at ICR, it would surely be the faithful donors God has raised up to enable this ministry, now going into its 48th year of service.
As new donors join our family of supporters, many have commented that ICR is one of the "best-kept secrets" in the Kingdom. Each year brings new evidence of God's supply through His twice-born children. ICR does not have an endowment or some bucket of extra money that we can draw from regularly. About 80% of our annual budget comes directly out of the mailbag each day. The other 20% of the operational needs are mostly cash-flow items like seminar fees, travel reimbursement, and resource sales.
All capital projects (such as the discovery center) that God has convincingly led us to begin require extra cash—every dollar of which must come in addition to the regular operational needs of ICR. If you have been part of the ICR family for a while, you will certainly know that we do not use professional fund-raisers or PR firms to continually promote those projects. We have attempted to let our readers and donors know of the missions we believe God wants us to complete, and then expect Him to move hearts as needed.
That has been part of His wonderful works ever since the beginning back in 1970. There are times when our faith is challenged, but God's track record is unfailingly successful. When ICR leadership has spent time seeking God's will for our ministry, God has always rewarded those decisions with sufficient resources to complete the task. We are resting in God's works as we move forward.
To the degree we have accomplished anything, the Father in heaven gets the glory and honor and praise.

Thanks for letting me (and ICR) brag a little bit about the wonderful works of the Lord to and for ICR. To the degree we have accomplished anything, the Father in heaven gets the glory and honor and praise.
* Dr. Morris is Chief Executive Officer of the Institute for Creation Research. He holds four earned degrees, including a D.Min. from Luther Rice Seminary and an MBA from Pepperdine University.