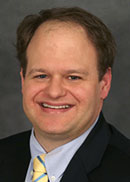 Dr. Leo (Jake) Hebert III
Research Associate
Physics, the Ice Age, Problems with the Big Bang

Dr. Hebert earned a master's degree in physics in 1999 from Texas A&M University, where he studied optics and was a Dean's Graduate Fellow 1995-1996. He received his Ph.D. in 2011 from the University of Texas at Dallas, where his research involved a study of the possible connection between fair-weather atmospheric electricity and weather and climate. He has taught at both the high school and university levels. He joined ICR in 2011 as a research associate and focuses much of his work on climates before and after Noah's Flood, among other research endeavors. He is the author of The Ice Age and the Flood: Does Science Really Show Millions of Years? and a contributor to Guide to Creation Basics and Creation Basics & Beyond.
Available resources by Jake Hebert:

Click here for articles by Dr. Jake Hebert.
Click here for the ICR Speakers page.