Looking for the clearest amber on Earth? A new study shows that Dominican Republic amber is clear enough to see what's inside. Apparently, ancient parasitic protozoans loved to live inside intact red blood cells.
Publishing in the Journal of Medical Entomology, renowned amber collector George Poinar showed over a dozen pictures taken with a microscope. They reveal tiny parasites in various growth stages inside blood cells as well as body tissues of a bloated tick trapped in the amber.1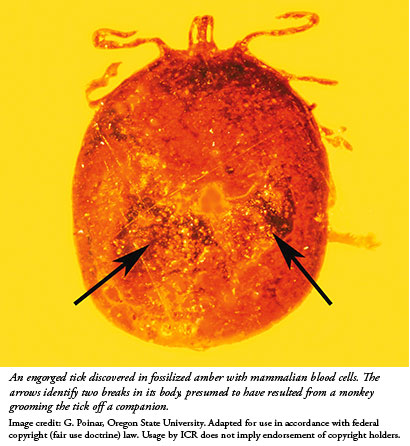 The red blood cells are large, have no nuclei, and follow the classic biconcave disc shape. All three features point to blood cells from certain mammals. The cells must have escaped through tiny rips in the tick's tough hide after tree resin captured the hapless insect long ago. Poinar suggested the tick took its last blood meal from a primate. How old are these blood cells and why haven't they completely decomposed?
Study author Poinar wrote that this discovery marks the earliest fossil mammalian red blood cells and "intraerythrocytic hemoparasites," blood parasites that live inside red blood cells.1 The sandstones that house Dominican ambers bear wide age assignments ranging from 15 to 45 million years, depending on which fossils are used in the typically circular age assignment process called biostratigraphy.2 By assuming the fossils came from creatures that evolved over eons, researchers attach those same eons to the fossils' rocks.
But shouldn't the persistence of intact red blood cells, in contrast to cells' rapid decay upon their deaths, challenge this assigned age?
Many amber-encased insects, plant parts, lizard body parts, and other fossils show definite signs of decay. Sometimes their body cavities turn to empty shells. Many other insect bodies convert into a whitish mass. After fewer than a million years—to say little of 15 to 45 times longer than that—all these trapped carcasses should have totally fallen apart. But many amber-trapped carcasses, like this bloated tick and its associated red blood cells, look far too pristine to have been sitting there for millions of years.
Some seem convinced that amber has an almost magical preservation power, possibly inspired by movies like Jurassic Park. But the science of decay shows that this Hollywood embellishment rings hollow—DNA and proteins decay orderly and incessantly.
Ambers can form from certain tree resins in just a few years. They crack and darken with age. If microbes or salt deposits enter the cracks, they widen and the amber breaks apart over time. But like many other samples from around the world, none of that happened to the amber surrounding this tick. Its deposition only thousands of years ago may mean that the secular age assignments are wrong, but it does explain how a tick, its nearby red blood cells, and even parasites within these cells still look so pristine.
References
Poinar, G. 2017. Fossilized Mammalian Erythrocytes Associated With a Tick Reveal Ancient Piroplasms. Journal of Medical Entomology. doi: 10.1093/jme/tjw247.
Thomas, B. Circular Arguments Punch Holes in Triceratops Study. Posted on ICR.org July 21, 2014, accessed April 14, 2017.
Image credit: © 2017 Fort Wayne Children's Zoo. Adapted for use in accordance with federal copyright (fair use doctrine) law. Usage by ICR does not imply endorsement of copyright holders.
*Mr. Thomas is Science Writer at the Institute for Creation Research.
Article posted on April 17, 2017.