Parks Across America Tour: Grand Canyon National Park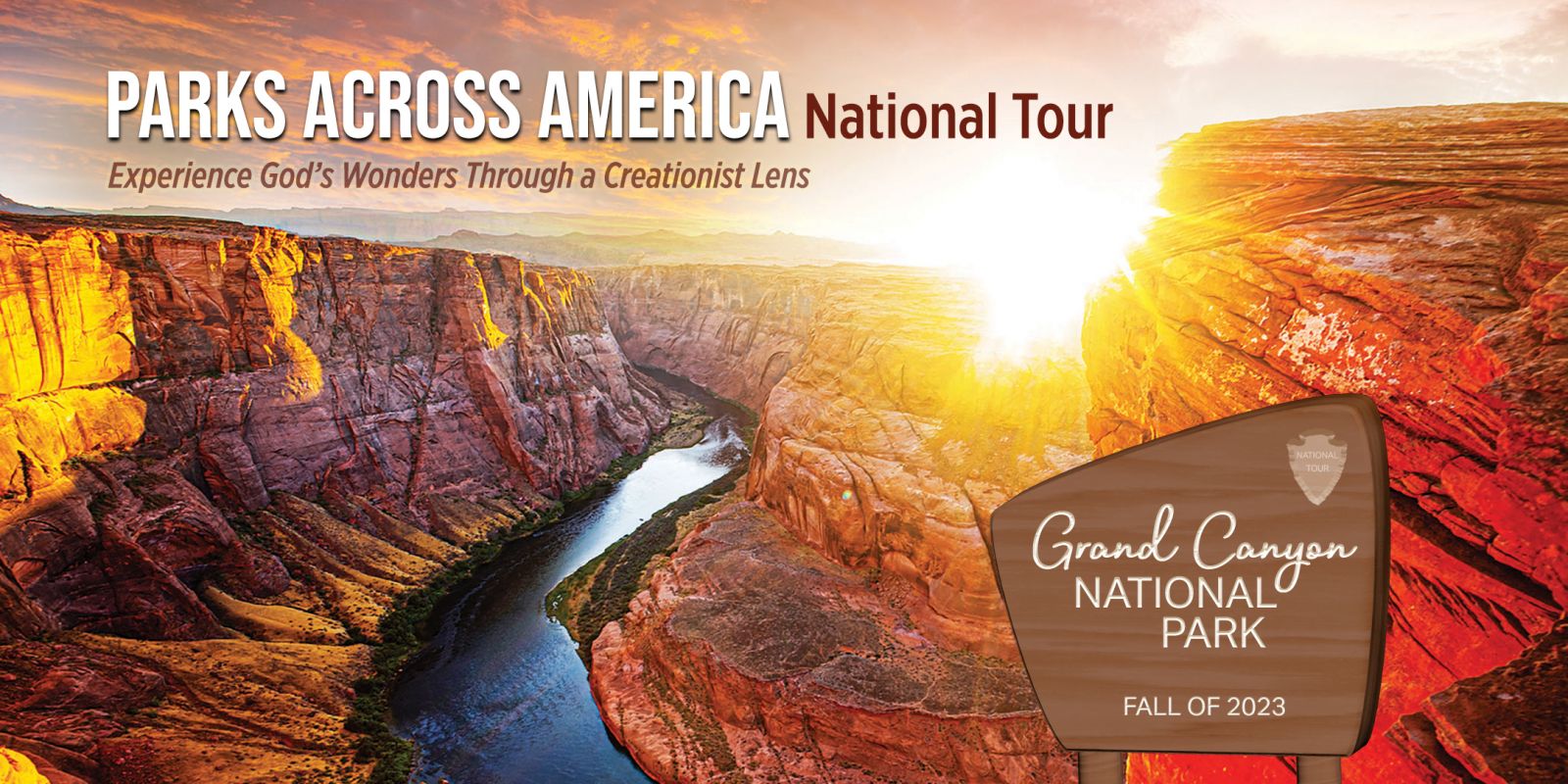 Dates: Oct 16, 2023 - Oct 19, 2023
Due to Grand Canyon National Park imposed limitations on group sizing, this tour has reached capacity and is sold out!
Please watch for announcements in Acts & Facts and at www.icr.org/events for other upcoming Parks Across America events.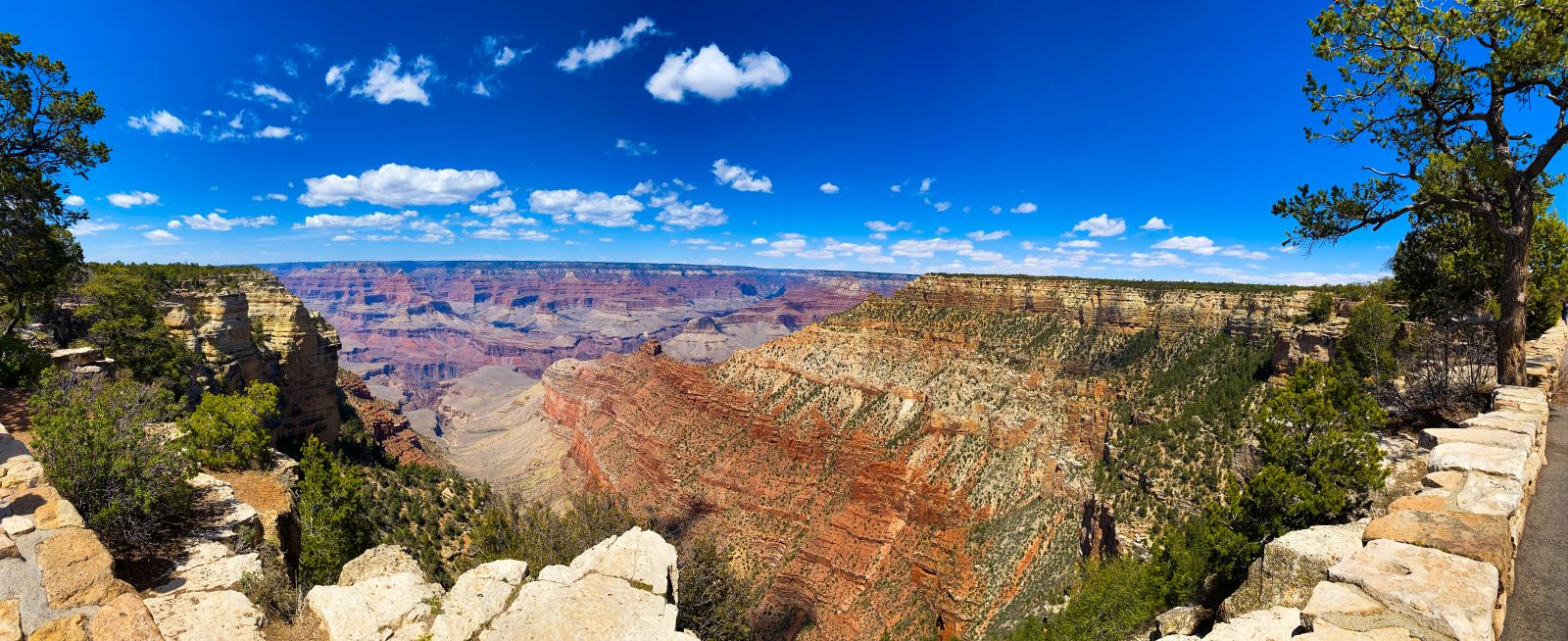 About the trip
The Parks Across America: Grand Canyon National Park Experience will follow right after ICR's Creation Mega Conference in Phoenix on Thursday, October 12th, Friday, October 13th, and Saturday, October 14th. Then join us on Sunday afternoon, October 15th, as we begin our journey from Phoenix to Grand Canyon National Park. We will stop along the way in Sedona to enjoy some picturesque views, and a meal together before heading to Williams for the night.
Sunday night we will stay at the historic Grand Canyon Railway Hotel in Williams, and enjoy breakfast before boarding the Grand Canyon Railway train, from the historic Williams depot, for a fun and scenic train ride through the deserts of northern Arizona all the way to Grand Canyon National Park, where we will be picked up and taken to our hotel.
During our stay at Grand Canyon National Park, you will have the opportunity to:
- Take a hiking tour of Grand Canyon with one of ICR's scientists (three levels of difficulty to choose from)
- Stargaze at the canyon rim with ICR staff and Matt Miles of Creation Truth Foundation
- Visit the Lowell Observatory in Flagstaff
- Hear from ICR's scientists in daily talks and Q&A sessions
- Enjoy the beauty of God's creation

Thursday morning, October 19th, we will depart Grand Canyon National Park early to visit the Painted Desert and have lunch. We'll take some time for pictures and exploring before heading back to Phoenix for an evening drop off at Tri-City Baptist Church. *Please note that all activity schedules and locations are subject to change in real time, due to various factors, including local weather conditions.

Costs

The Grand Experience package includes: - All entrance fees to the Grand Canyon and Petrified Forest national parks, and other locations on the itinerary.
- Lodging at the Grand Canyon Railway Hotel on Sunday night.
- A one-way ticket to ride the Grand Canyon Railway train from Williams to the Grand Canyon National Park on Monday.
- Participation in all hikes, stargazing sessions, visiting Lowell Observatory, hearing the scientists' presentations and Q&A sessions
- Hotel accommodations at the Red Feather Lodge just outside of Grand Canyon National Park, in Tusayanm, on Monday night, Tuesday night, and Wednesday night.
- All transportation Sunday afternoon through Thursday evening. (Participants are responsible for transportation to and from Phoenix)
- Breakfast at the Red Feather Lodge is provided. Participants are responsible for the costs of all other meals. Bottled water and snacks will be available throughout the trip.
Pricing Pricing for The Grand Experience package is based on a hotel stay. All pricing is for one hotel room. Hotel rooms can accommodate up to four people. One person - $1,750
Two people - $2,600 ($1,300 / person)
Three people - $3,450 ($1,150 / person)
Four people - $4,300 ($1,075 / person)


Schedule

Full schedule details coming soon!

Registration

This tour has reached capacity and has sold out!

Location

Grand Canyon National Park


20 S. Entrance Rd.


Grand Canyon Village, AZ. 86023




Questions and More Information

For more information about this event, please call 214.615.8306 or email events@ICR.org.