Resources for Students
Evidence for Students
There is so much evidence that we were created by God. Get the facts about creation, the Bible, and science.
All Life Systems Were Created by God
Biological life was specially and supernaturally created by the Creator. More...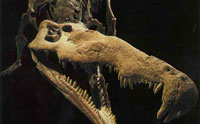 Fossils Reflect Life's Original Diversity
The fossil record demonstrates stability, complexity, and abrupt appearance - predictions of the creation model. More...
Unique Environment for Life
Earth is far better suited for life than any other planet. More...
Articles for Students
Frequently Asked Questions for Students
Graduate Students
ICR offers a graduate-level degree program in Christian education and biblical apologetics. Click here for more information about the School of Biblical Apologetics.
Creationist Worldview Students

ICR's Creationist Worldview program is an in-depth, Bible-based online course of study. This certificate program of study is designed to provide a well-rounded exposure to the issues of worldview, biblical authority, the foundation of Genesis 1-11 events, the biological and science disciplines, and the application of the Stewardship Mandate in the areas of society, law, education, and much more. Click here to find out more about the Creationist Worldview program.
About ICR
ICR is a resource for students who want to investigate and understand the evidence for creation. More About ICR...