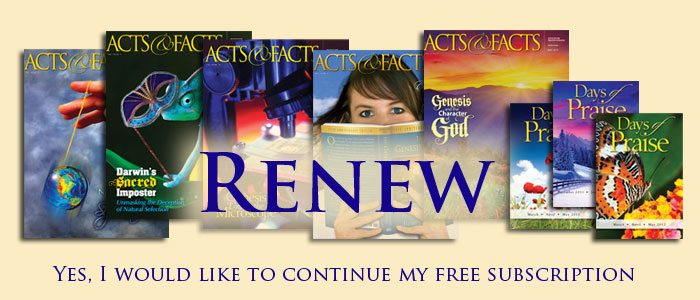 Thank you for your interest in renewing your subscription to ICR's publications. For over 40 years, ICR has been privileged to offer Acts & Facts and Days of Praise to hundreds of thousands of believers all over the world, equipping them with evidence of the Bible's accuracy and authority. We trust that our materials have been meaningful to you and that they've encouraged and strengthened your witness for Christ, our Creator.
If our publications have blessed you and your family, please consider making a tax-deductible gift to help defray the costs of sending these resources to you.
Your gifts will be put to good use in our ministry, and with God's help, will accomplish much lasting fruit for the cause of Christ.
If you would like to continue your subscription without a donation, please click here.