January 1st marked something of a personal milestone for me, the 10th Anniversary of my installation as President of ICR. They have been significant years, so please allow me this opportunity to reflect.
My father started ICR in 1970 on a shoestring. Actually, he was the only employee, and he divided his time between his duties of Academic Vice-President at Christian Heritage College (now San Diego Christian College) and his creation activities. Soon others came alongside. I started work at ICR/CHC in 1973, primarily involved in expeditions to Mt. Ararat in search of Noah's Ark and also worked as a college recruiter. I left in 1975 to return to graduate school for my Ph.D. and subsequently served in a faculty position at the University of Oklahoma and returned fulltime at ICR in 1984.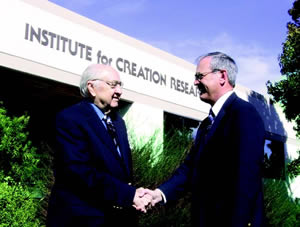 To some, it was a given that I would eventually assume the presidency, but I knew enough about the position to have some trepidation. I really enjoyed research, teaching, and speaking but didn't particularly anticipate or desire the administrative duties. My prayer at the time was that I would be of such value to ICR that when the time came for a transition, the Board would consider me. In 1995, the offer was extended, and with mixed emotions, I accepted.
Looking back, I am convinced it was the Lord's will, and I am thankful. Surrounded by a dedicated and unified staff, much has been accomplished. The graduate faculty has grown significantly, research results have been stunning, the overall creation movement (which in many ways looks to ICR for leadership) is quite robust, lives are being changed, and the Creator is being glorified. Everyone here (especially me) recognizes the blessings of being in the Lord's work and making an eternal impact.
These 10 years have seen growth in almost every area of ICR. My favorite area is that of research. Not only does ICR dedicate a significant portion of its budget to scholarly research, but it now has in place a vibrant model for attacking major problems. We can expect future research gains which will rival the success of the RATE research.
One more true blessing. My father, my predecessor in the position, is still quite active in the ministry. It is a true joy to even know such a man as Henry Morris, but our relationship has grown from father/son to employer/employee to that of colleagues, and now, dear friends. He has shared his heart with me, passing on his vision, giving me direction for the task ahead. The plaque on his office wall "Perhaps Today" adequately reflects his expectant attitude regarding his Christian life, the work of ICR, and the Lord's return. With the solid foundation he has laid, the future for ICR looks bright. Through the decades he has been faithful in little things, and now the harvest has arrived.
Thank you, Dad, for your wisdom and counsel. Thank you, supporters of ICR, for your prayers and support. Thanks also to my colleagues at ICR; together we share the burdens and blessings. And thank you, Lord, for counting me worthy of the ministry.