Take a quick look at the hummingbird pictured below. This tiny bird's wings beat from 50 to 80 times per second—a testimony to God's incredible design, caught in a split-second of time. In real time, we only see a blur as this remarkable creature darts about too fast for us to fully catch its exquisitely engineered performance.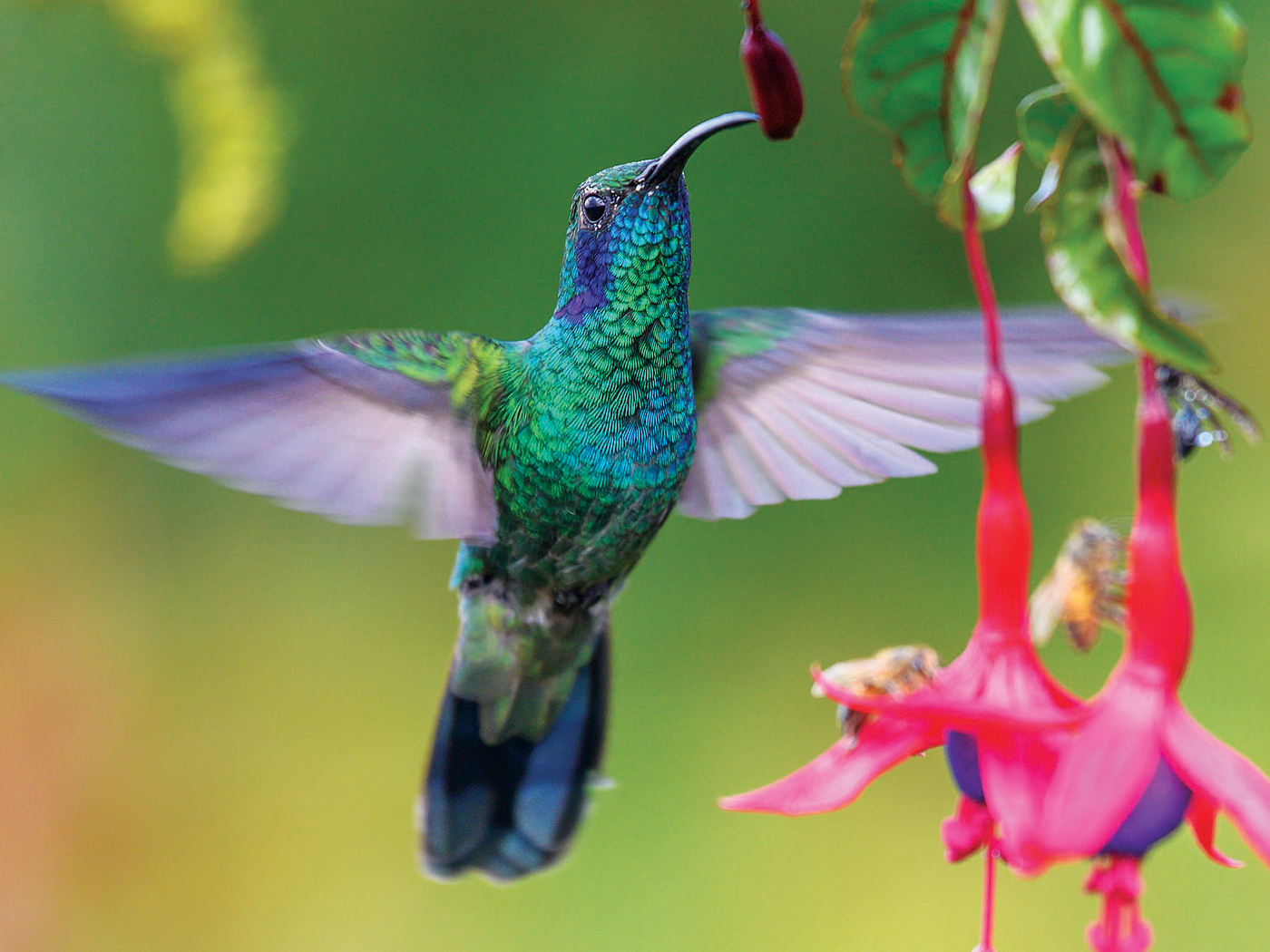 When you look at the world around you, do you ever wonder about the things that are happening just beyond the boundaries of what you can see, hear, and touch? How much of God's workmanship do we miss? What do we take for granted?
This month, ICR zoologist Frank Sherwin pulls back the curtain to reveal just some of the hummingbird's elegantly intricate capabilities. Mr. Sherwin points out in "Hummingbirds by Design" that when a hummingbird draws nectar from a flower, we can marvel at how both bird and plant were crafted for each other. The Creator carefully constructed the flower in just the right way to feed the tiny creature: "These flowers seem uniquely designed to accommodate a hummingbird's beak and tongue….God designed the hummingbird's bill and tongue to drink nectar from flowers many insects wouldn't be able to access." Mr. Sherwin also highlights the sophisticated design of the hummingbird's metabolism, vision, and vocalization. Every part of this tiny bird points to the genius of Christ.
In this issue, ICR President Dr. Randy Guliuzza spells out his vision for a new biological model that explores and explains remarkable creature features like the hummingbird's within an engineering framework. In "The Power of the Next Idea," Dr. Guliuzza says, "The creation science movement was initially launched by a powerful idea: that the biblical narrative could be fully trusted to guide the development of scientific theory." The Flood model in Drs. Henry Morris and John Whitcomb's The Genesis Flood changed the way many Christians understood geology. Dr. Guliuzza explains how the Institute for Creation Research will build on that foundation by developing a similarly compelling model for biology: "Our task is to fundamentally change the way people understand biology by constructing a completely new theory of biological design that incorporates recent discoveries and respects the biblical narrative." ICR is committed to highlighting God's work within a framework that's both biblically based and scientifically sound…"a perspective that gives glory to the Creator—not to nature."
When we look around us, we see evidence of God's engineering everywhere—from gleaming stars in galaxies far away to Earth's life-friendly ecosystems in which tiny hummingbirds can hover and dart from flower to flower. Every detail of every part of the universe is specially designed by our Creator. Consider His handiwork this Thanksgiving as you ponder His blessings—our world shouts His design and sings His glory!
* Jayme Durant is Director of Communications at the Institute for Creation Research.