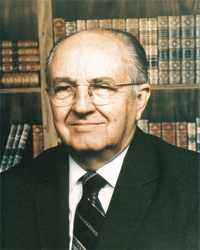 The assembly gathered Thursday at Shadow Mountain Community Church to celebrate the life and homegoing of a great man of the faith. This man dedicated to the Lord in his infancy by the great R.A. Torrey, would grow into a mighty warrior in the fight against evolution. Dr. Henry Morris, father of the modern creation-science movement was remembered in the 90 minute service as a friend, colleague, and father.
Dr. John Whitcomb remembered Dr. Henry as a humble man with a powerful message, and a vibrant relationship with his Creator. Dr. Whitcomb, a theologian, recounted the hundreds of letters he and Dr. Morris exchanged in discussion of the creation/evolution debate. Dr. Morris, Dr. Whitcomb said, was especially suited for the ongoing debate, for while Dr. Whitcomb could argue creation from biblical grounds, Dr. Morris was qualified to argue the truth scientifically. Drs. Whitcomb and Morris eventually joined to write the seminal book, The Genesis Flood.
Dr. Tim LaHaye recounted time spent with Dr. Morris planning the establishment of a Christian college in San Diego. Dr. Henry had not only a love for creation science, but also a desire to spread the message through education, and with Dr. LaHaye began what is now San Diego Christian College. Dr. LaHaye read several Scripture passages from The New Defender's Study Bible and Dr. Morris's comments printed in the annotations. These annotations vividly communicated Dr. Morris's love for truth and for his Creator and Savior.
Dr. Henry Morris III continued the tributes to Dr. Morris, sharing personal memories of his father. He stated that he often remembered his father sitting in an armchair with a Bible on one knee, a concordance on the other, and a yellow notepad in between. Even until his death, Dr. Morris continued to write. In fact, a copy of his last tract, regarding the resurrection of Christ, was enclosed in the program for the service. Dr. Henry Morris III related that even in this time of difficulty, the family is rejoicing that Dr. Morris's greatest desire has now been realized—he is home with his Savior.
The formal tributes to Dr. Morris were accompanied by the comments of Dr. John Morris and several hymns beloved by Dr. Morris. The heart of this great man was expressed as the congregation sang of the mighty fortress that is our God, the Rock that Dr. Morris found solid, and the wonderful grace of Jesus.
The service closed in prayer: praising and thanking God for the man, Henry Morris.