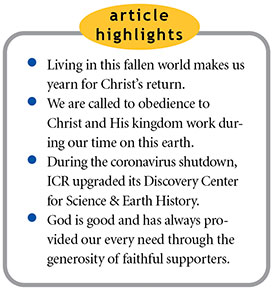 No doubt many of you, like me, have been earnestly looking for the return of the Lord Jesus Christ. He called all believers to be godly "salt" and "light" in this sin-darkened world (Matthew 5:13-16), but the unrest we've witnessed in recent days has only increased my longing for the Creator's return. While the promise of His Second Coming is assured—perhaps today might be the day—it's easy for us to grow weary and discouraged while we wait for His glorious appearing.
In times like these, we do well to remind ourselves that God's truth never changes—no matter how humanity may warp and twist it. Rejection of God's Word was rampant in the days of Noah, Abraham, and Paul (Genesis 6:5; 18:20-21; Romans 1:20-25), so rebellion against God in this once-Christian nation should come as no surprise. But we must also remember Christ's command to "do business till I come" (Luke 19:13). Rather than anxiously hiding and waiting for the storm to pass, Christ has called us to stay active using whatever abilities and opportunities we have to sow, water, and reap in fruitful service to Him. Then "blessed is that servant whom his master will find so doing when he comes" (Luke 12:43). With that mindset, there is still much work left to do!
As you've probably heard, ICR had to temporarily close the ICR Discovery Center for Science & Earth History in mid-March in response to stay-at-home mandates in Dallas. While this "forced pause" was certainly challenging, we continued to "do business" and made excellent use of the downtime by giving everything a deep clean, working on a myriad of maintenance projects, and installing significant upgrades to various exhibits. We are thrilled about reopening the Discovery Center and reengaging with people once again.
The most noticeable improvements include adding new signs throughout the exhibit hall, improving acoustics and restroom facilities, and installing information monitors outside the planetarium and Founder's Hall. Based on visitor feedback, we made significant changes to the short theatrical films in the Origin of the Universe and The Returning King exhibits. And sharp-eyed visitors will note the subtly animated portrait of ICR founder Dr. Henry Morris in the Founder's Library exhibit. If you have the opportunity to visit, please do so. This world-class facility is now better than ever, and you'll be amazed to see what God enabled ICR to create. All glory belongs to Him (Revelation 4:11)!
As the Institute for Creation Research celebrates its 50th year of service, we are thankful for God's many blessings upon our ministry. Through good times and bad, His providential hand has unmistakably guided our steps and enabled us to expand for the future. God especially met ICR's needs during the mandatory closures of the past few months and helped us persevere through a most unexpected and turbulent time. We are so very grateful for the gifts, prayers, and encouraging notes from our supporters, and while He tarries we welcome your continued support of the unique work God has called us to. "Even so, come, Lord Jesus" (Revelation 22:20)!
* Mr. Morris is Director of Operations at the Institute for Creation Research.