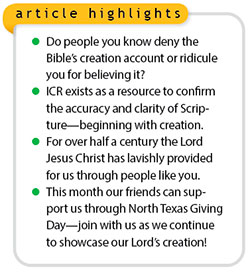 Have you ever heard a pastor question the historical nature of Genesis? "The days of creation weren't really 24 hours long. The Bible is not a science textbook." Do family members challenge you because of your belief in biblical clarity? "Evolution has been proven true. Dinosaurs existed long before people." What about ridicule from coworkers, bosses, or teachers? "You weren't paying attention in seventh grade science class. Evolution is a fact. Don't talk to me about Jesus."
How can you respond to these misguided—or even hostile—statements? Here's where Nodari found help:
ICR stands at the forefront of the scientific debate, thus equipping me and many more with information and knowledge (science), equipping the believer and convicting the hearts of skeptics. I feel like I have big brother(s) to rely on when it comes to creation research and gospel proclamation. Please accept my gratitude and thanks for your assistance. Thank you and God bless ICR.
If you're a Christian like our friend Nodari, you have the privilege and responsibility to proclaim the good news of Jesus Christ and put His Word on display through your words, actions, and attitudes. Are you able to confidently defend your faith (1 Peter 3:15-16)?
ICR stands ready to be your go-to resource for creation apologetics. From books and videos to conferences, guided national park tours, and our Dallas creation museum, our team of Ph.D. scientists, theologians, and dedicated staff will come alongside you to guide your creation conversations and build your faith.
Our ministry exists because of the Lord's provision through generous, prayerful friends like you. And we want you to be aware of a unique opportunity since you are our ministry family. Over the last several years ICR has participated in one of the largest regional giving events in the nation—North Texas Giving Day. While this event promotes nonprofits in Texas, gifts given to ICR on this special day impact more than our local programs. Your gift of any amount funds our ongoing scientific research, national events, community outreach at the ICR Discovery Center, this magazine, and our daily devotional—provided free of charge to anyone who subscribes—as well as books, videos, podcasts, and much more! Share in ICR's ministry on September 23. Go to ICR.org/ntgd to schedule your donation.
How else can you advocate for biblical creation? Please pray for ICR—for fruitful ministry, global reach, and ultimately, all glory to Christ. Tell your family, friends, church members, and neighbors about our mission. If you live near Dallas, apply to volunteer at the ICR Discovery Center for Science & Earth History.
And lastly, as you are able, consider monthly financial gifts (ICR.org/donate) to fuel our ministry programs and spread the life-changing truth about our Creator, Savior, and returning King. Your gifts will impact others like Nodari, who need the faith-building resources ICR has provided for over 50 years.
Our staff prays for you as you evangelize the lost, stand firm in the faith, and run the race for the glory of the Lord Jesus Christ. May the Lord bless you for your advocacy and generous support of ICR.
* Mr. Hansen is Marketing Manager at the Institute for Creation Research.