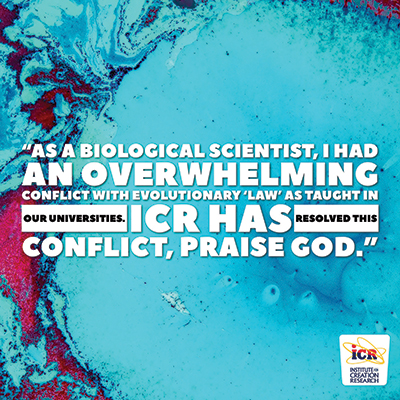 Have we told you lately how thankful we are for your prayers and financial support? ICR's ministry happens because of the Lord's blessing through your partnership.
Because of you, we have encouraged and equipped hundreds of thousands of believers with a wealth of scientific evidence that confirms the Bible is right and its message is true. One follower attributes ICR with removing an "overwhelming" stumbling block:
As a biological scientist, I had an overwhelming conflict with evolutionary "law" as taught in our universities. ICR has resolved this conflict, praise God.
Many still don't know about the "best-kept secret" in Dallas, Texas—ICR and the ICR Discovery Center for Science & Earth History. Your contributions help us introduce our ministry to new friends through the Acts & Facts magazine, email updates, conferences, and more recently online giving campaigns.
ICR has a global ministry. But our own neighborhood—the Dallas-Fort Worth metroplex—is home to over seven million people. We have a great need to proclaim God's creation truth in our own backyard.
This is why we participate in online giving events like North Texas Giving Day, the largest regional fundraising and volunteering event in the nation, and Giving Tuesday, a one-day global giving movement that inspires gifts of time, donations, goods, and advocacy. Over the last three years, and with your help as ICR ambassadors, we've raised over $62,000 and built awareness about the biblical creation message.
As we approach another season of giving, we want you to know how encouraged we are by your faithful support. Your financial gifts ensure God-honoring scientific research and open the doors for guests of our brand-new ICR Discovery Center. Please consider partnering with us each month. Visit ICR.org/donate/giving to schedule your donation.
We thank you even more for your kindness and love shown through your prayers and petitions to the Lord on our behalf. Together, let's focus on spreading the good news of our Creator and Savior, Jesus Christ!
* Mr. Hansen is Digital Marketing Specialist at the Institute for Creation Research.