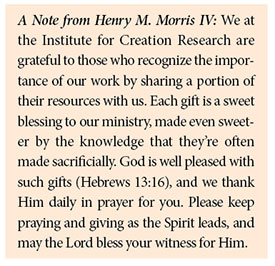 This month we invite you to join us in a prayer for the Institute for Creation Research's ministry.
Dear Jesus, Creator of all, we seek to glorify Your name in everything we do. Thank you for the countless supporters who've provided for ICR's ministry for over half a century. Their gifts and prayers have been the means by which You have sustained this work.
We ask that these gifts be multiplied as we boldly proclaim You as Creator of the universe and Savior of the world. Sanctify each gift given and each prayer offered that they may result in articles, books, videos, events, and Discovery Center experiences that honor You and the truth of your Word.
We pray for guidance and protection as You send out workers into the harvest. May Your Holy Spirit's work through ICR bless and equip believers and open the eyes of skeptics. We also pray as we send forth our message that You would multiply it to bear much fruit for Your Kingdom and bring great glory to You.
We pray specifically for a special anointing:
For our scientists' research, writing, and speaking
For ICR events around the country to be successful and protected
On the development of print, audio, video, and other resources
On the visitors who are drawn to the ICR Discovery Center for Science & Earth History
For ICR's vision, support, and future direction
We boldly come before Your throne as your children and ask for provision and open doors. It is a privilege to serve You. It is a privilege to give to You and Your Kingdom, for there is no other name under heaven by which we must be saved. Make the seeds we sow each day sprout, grow, and flourish.
To Christ Jesus, Creator and Redeemer, alone be the glory. Amen.
* Mr. Stamp is an editor at the Institute for Creation Research.