by Christy Hardy and Susan Windsor*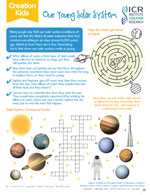 You're never too young to be a creation scientist! Kids, discover fun facts about God's creation with ICR's special Creation Kids learning and activities page.
Many people say our solar system is billions of years old. But the Bible's timeline indicates God created everything in six days around 6,000 years ago. Which is true? Here are a few fascinating facts that show our solar system really is young.
Click HERE to download the January-February 2022 activity page.
Click HERE for all of ICR's Creation Kids activity pages.
* Ms. Hardy is Senior Communications Specialist and Ms. Windsor is Graphic Design Specialist at the Institute for Creation Research.