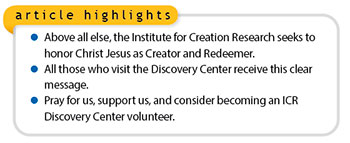 Since the ICR Discovery Center for Science & Earth History opened in fall of 2019, tens of thousands of people have walked through our doors. They come from many different places, backgrounds, cultures, and life situations. But as varied as our guests are, they have one thing in common: by the time they leave here, they have heard that Jesus Christ is the Creator of everything, the Savior of all who will repent and believe, and the coming King who will one day take His children home and judge all others.
As someone who works in the Discovery Center, it's interesting to watch people's reactions to the truths they interact with during their time here. For most of our guests, it is a faith-building reminder of the steadfast truths they already hold dear. For some, they laugh it off as fairy tales that have no place in academic discussion—after all, "the message of the cross is foolishness to those who are perishing" (1 Corinthians 1:18).
For others, perhaps they've heard some of the truths about creation and salvation in the past, but this time it's different. Suddenly those truths plunge deeply into their hearts in a new way. They realize that the Bible is true and the evolutionary "science" they've been clinging to is empty and unfounded. They recognize they are sinners in need of a Savior and that Jesus' blood is their only hope for salvation from the punishment they justly deserve. They realize that because of who Christ is and everything He has done, He deserves to be worshiped above all others.
That is the crux of ICR's mission across our entire ministry—from our research, to our resources, to our events in various places, to the Discovery Center, and everything else that we do. That is why creation science matters. It is not just a matter of "being right." No, it's a battle for individual hearts to give Christ the glory He deserves as all-powerful Creator, gracious Savior, and sovereign King.
But as Paul reminds us in Romans 10:14-15:
How then shall they call on Him in whom they have not believed? And how shall they believe in Him of whom they have not heard? And how shall they hear without a preacher? And how shall they preach unless they are sent?
That's where you come in. So many of you are already helping to "send" ICR in three key ways.
By praying for us. We fully recognize our dependence on the Lord. "Unless the LORD builds the house, they labor in vain who build it" (Psalm 127:1). In order to accomplish anything for Christ, we need His help!
By volunteering with us. ICR volunteers play a huge role in sharing God's truth with our guests in the ICR Discovery Center.
By sharing your financial resources with us. Everything ICR has done and continues to do is made possible as God uses your generous gifts.
To the many of you who enable ICR's ministry in any or all of these ways, thank you! ICR lives and thrives because of your love, prayers, and generosity.
If you are not yet involved in ICR's ministry but wish to contribute in any of those three ways, here's how.
Please pray for us!
If you live near Dallas, Texas, and want to volunteer at the ICR Discovery Center, you can check out some more information and apply at ICR.org/volunteer or email volunteer@icr.org
Please consider financially supporting us as you're able and willing. There are several different ways to donate; you can read more at ICR.org/donate
Thank you so much for partnering with us for the glory of Jesus Christ—our Creator, Savior, and King.
* Ms. Pennington is Volunteer Coordinator at the Institute for Creation Research.