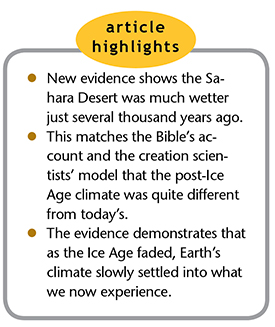 New research has again confirmed the predictions of creation scientists. The Sahara Desert wasn't always a dry, desolate place. Right after the Ice Age, the Sahara was filled with lakes and swamps.1
Wim Van Neer of the Royal Belgian Institute of Natural Sciences and his colleagues recently catalogued numerous fossilized aquatic animals found in today's Sahara Desert. The excavations were from the Takarkori rock shelter in southwest Libya in sediment layers claimed to be 4,650 to 10,200 years old. Many of the animal bones showed clear evidence of cut marks from human activity.2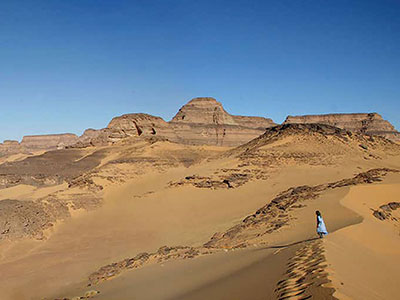 Image credit: Copyright © 2020 S. di Lernia. Used in accordance with federal copyright (fair use doctrine) law. Usage by ICR does not imply endorsement of copyright holder.
Publishing in the online journal PLoS ONE, the scientists found several species of fish, including tilapia and catfish.1 They further discovered that the fish bones were most abundant in the deepest (earliest) layers of the cave and decreased upward in younger layers. This suggests the climate slowly transitioned to a more arid environment over many centuries. Study co-author Savino di Lernia explained:
During this period [soon after the Ice Age], the central Sahara was much more humid than it is today. It was a savannah-like environment and it supported large animals like elephants, hippos and rhinos.1
Creation scientists disagree with the secular dating of these fossils but do agree that these fish and other aquatic animals lived in the immediate centuries after the Ice Age, possibly 3,000 to 4,000 years ago. This interpretation is supported by the post-Ice Age climate calculations of creation scientist Mike Oard.3
ICR founder Dr. Henry Morris pointed out there are more references to snow and ice in the book of Job than in any other book of the Bible.4 There is strong evidence it was written in the time of the Patriarchs, about 2000 BC. Although the massive Ice Age glaciers didn't extend to where Job lived, they did have a strong effect on the climate of the Middle East and North Africa. This would have caused cooler temperatures and more rain and even snow than witnessed there today.4
This wetter and cooler climate likely lasted for many centuries after the Ice Age. The Egyptians didn't establish their civilization in the desert we find there today. At the time of the Patriarchs, this area would have still been affected by the Ice Age, with a wetter and more humid climate. This also explains the presence of freshwater fish fossils found in abundance in the Sahara. It wasn't until many centuries later, as the desertification process took hold and Earth's climate found a new equilibrium, that the Egyptians began to increasingly rely on the Nile as a water source.
The discovery of post-Ice Age humans consuming freshwater fish in a Saharan cave should come as no surprise. It's no fish story. Accepting the truth of a global flood and its profound aftereffects explains the ancient aquatic fauna we find—even in a modern desert climate.
References
* Dr. Clarey is Research Associate at ICR and earned his Ph.D. in geology from Western Michigan University.