Evidence for God
Although there are some people who profess to be atheists, the Bible indicates that there is no such thing. Everyone knows that God exists, even though some may verbally deny it (even to themselves). Romans 1:18-21 teaches that God has made evidence of His existence so abundantly obvious to all mankind that there is no excuse for denying Him. It's no surprise then that there are many lines of evidence that confirm this biblical truth.
Cause and Effect Requires a First Cause. More...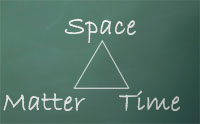 Nature Reveals God's Triune Nature. More...
Mankind Reflects our Creator's Image. More...