"If we are unable to trust the words of God, then we are surely doomed to wander in the ignorance of unbelief, 'ever learning, and never able to come to the knowledge of the truth' (2 Timothy 3:7).""
—Dr. Henry Morris III
Demand the Evidence
Does God's character harmonize with evolution?
Is the earth really billions of years old?
Who has the last word—scientists or Scripture?
Are YOU prepared to refute those who would compromise the Word of God?
For nearly 40 years, the Institute for Creation Research has led the way in research and education in the field of scientific and biblical creation. Join our speakers and scientists as they present solid evidence from science AND Scripture.
Sign up today and demand the evidence!
Keynote Speaker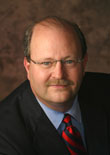 Dr. Mac Brunson is Senior Pastor of First Baptist Church in Jacksonville, Florida. Dr. Brunson is the author of several books, including The Miracle You've Been Searching For, The God You've Been Searching For, Why Churches Die, and The New Guidebook for Pastors.
Conference Speakers and Schedule
---
Conference Registration:

Conference registration includes admission to all speaker sessions on Friday and Saturday, Q & A Panel Discussion, and the resource area. Also included are conference notebooks, free ICR books, and an entry to win an IPOD Touch* or other prizes (must be present to win). Lunch is available at the conference for an additional cost if purchased with registration by October 6th.
Admission:
$ 25.00 – Regular admission
$ 20.00 – Early bird admission (extended to October 6th)
$ 15.00 – Student admission
Optional:
$ 8.50 – Lunch (price is in addition to conference registration; must order at time of registration)
$ 50.00 – Conference DVD set, if paid with registration by October 6, 2009 (regularly – $ 75.00)**
* Every registered guest will have a chance to win an Apple IPOD Touch. Must be present at time of drawing to win.
** Reserve your DVD set for the discounted price of $ 50.00 if paid with registration and before October 6, 2009. DVDs will ship approximately 6 weeks after the end of the conference.

Or register by phone at 800.337.0375.
---
For questions about upcoming events, or to find out more information about hosting an event, you can e-mail the events department at
events@icr.org
, or call
800.337.0375
.