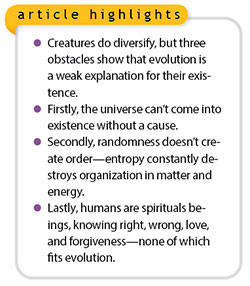 Sure, finch beaks shift their shapes, but does that mean nature invented beaks and birds from stardust? Evolution's proponents often speak as though we witnessed the supposed steps from dust to planets, and from single cells to humans. This story replaces a Creator. Since this grand evolutionary narrative gets so much attention in our culture, let's look at three hurdles that only a real Creator could overcome. They put the Lord Jesus back in place as the Author of life and the universe.
The first hurdle concerns the origin of that stardust that supposedly turned into us. An anti-Creator bias has basic elements simply coming into existence. From nothing. One atheist physicist even titled his book A Universe from Nothing. This option violates the Law of Conservation of Energy, which notes how the total amount of energy in a system stays the same over time. How can a universe conserve the same amount of matter/energy if it goes from nothing to everything?1
Maybe matter and energy never had a beginning, making them eternal. This option would violate the Law of Entropy, which describes the relentless randomization of energy. Since evolution runs into either one hurdle or the other, we have confidence that it takes a Creator to have a creation. And we definitely have a creation. So, when John said about the Lord Jesus that "all things were made through Him" (John 1:3), he offered the best way to leap over the dual hurdles of entropy and conservation—supernatural, instead of natural, origins.
If we pretend that matter and energy did come from nothing, how could they organize themselves into living cells? If dust naturally became cells, then we should see forces make things. Maybe waves should sculpt beach sand into animal sculptures. Maybe wind should put wings onto lizards. But natural forces never add information like specifications or code to matter. From rocks, gases, and whatnot come rocks, gases, and whatnot…only less organized. Even some of the most convinced evolutionists admit that nobody knows how the first cell supposedly formed. But without faith that life evolved, one would have to consider a Creator.
Our last hurdle for evolution concerns the uniquely spiritual qualities of humankind. Both animals and humans can run, but only humans can train for an upcoming triathlon. Both animals and humans can misbehave, but only humans can repent or forgive. Both animals and humans can communicate, but only humans can intentionally store communications for future generations. This happened when "holy men of God spoke as they were moved by the Holy Spirit" to form the Bible. God's Word teaches that Jesus made stars to inhabit the heavens (Genesis 1:15), swimming creatures to inhabit the seas (Genesis 1:21), and people to partake in life with Him forever (John 3:16). Our imagination, moral sensibility, and cross-generational talk all help us relate with our Creator.
With evolution's stories taught as fact so often in our culture, thinking through three of its many hurdles reminds us of just as many reasons why Jesus deserves the credit for our world and why we should know Him.
Reference
Some secular physicists claim a loophole in quantum mechanics allows for universes to pop into existence from nothing. But they forget that quantum mechanics already assumes that space, time, and energy exist.
* Dr. Thomas is Research Scientist at the Institute for Creation Research and earned his Ph.D. in paleobiochemistry from the University of Liverpool.