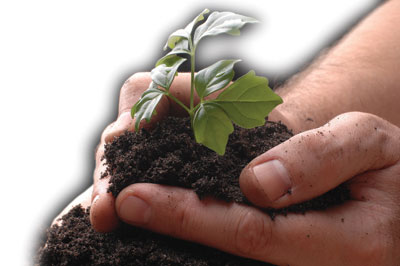 And God blessed them, and God said unto them, Be fruitful, and multiply, and replenish the earth, and subdue it: and have dominion over the fish of the sea, and over the fowl of the air, and over every living thing that moveth upon the earth. (Genesis 1:28)
When our Creator issued this first commandment to mankind, it is interesting to note that He preceded His instructions with a blessing. This is the first instance of God's love expressed toward His human creation, and establishes a pattern seen throughout the rest of Scripture in His relationship with mankind. Even on those occasions when God says, "Thou shalt not…," He does so to protect those He loves. The commands of our Lord are always wrapped in love, for He only desires the best for us.
So this first command to humanity--best known as the Dominion Mandate--was given both as a blessing and as a responsibility. Adam and Eve would soon discover that God's instructions to them encompassed far more than they could have imagined at the time. Not only were they expected to begin populating the earth, they were also commanded to manage all the resources that God had placed around them. In this way, God would receive glory from His new creation while allowing mankind the privilege of sharing in the earth's magnificent bounty.
Careful study of Scripture shows that this mandate has never been revoked--in fact, it was specifically renewed and extended after the Flood (Genesis 9:1-7). Ultimately, when His plan of redemption and judgment is complete, God will destroy this world and create new heavens and a new earth (2 Peter 3:10-13). But until that time, man is still expected to fulfill God's command to care for this world and rule over it.
The mandate to "subdue" and "have dominion" over the earth should not be misconstrued as God's permission to abuse and destroy. Rather, God clarifies His intent in Genesis 2:15 as one of true stewardship of His creation: "And the Lord God took the man, and put him into the garden of Eden to dress it and to keep it." Thus, Adam was given the responsibility to tend (dress) and cultivate (keep) God's creation, indicating a special care and concern for the earth. But proper "dressing" and "keeping" cannot occur without a thorough understanding of the underlying processes and functions. In today's terms, we know this as "science," and in the true biblical sense, scientific study was expected and required by God to accomplish His first commission to mankind--a commission of stewardship.
To this end, ICR announced last month the launch of the National Creation Science Foundation (NCSF) to foster innovative research that demonstrates evidence for creation as understood in Scripture. For nearly four decades, ICR has been privileged to lead the way in this pursuit--but there is only so much research we can accomplish acting alone. Recognizing the tremendous growth in the number of qualified scientists who share our vision, the NCSF was the next logical step in our mission to produce quality research in the study of origins. The NCSF provides the opportunity to fund multiple projects simultaneously, thereby accelerating the discovery of biblical creation evidence. We need your help to see it succeed--won't you prayerfully consider how you can partner with us? Together, we can work to fulfill our Creator's stewardship commission and see many come to Christ!
* Mr. Morris is Director of Donor Relations.
Cite this article: Morris IV, H. 2008. The Stewardship Commission. Acts & Facts. 37 (10): 17.