When Neil Armstrong set foot on the moon on July 20, 1969, the feat captured the world's imagination. Numerous missions followed, including the Space Shuttle program and the massive International Space Station (ISS) currently orbiting our world today. Although we've launched unmanned spacecraft to the far reaches of our solar system to explore planets and beyond, the question remains: Where will humans set foot next?
Answer: Mars.
Later this year, a friend of our ministry, Col. Jeff Williams, will break the record for the most time in space by a NASA astronaut—534 cumulative days from his four expeditions. But a round trip to Mars would exceed that time in a single journey.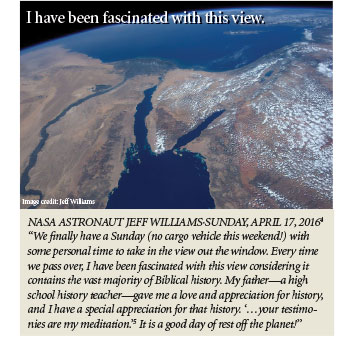 NASA looks to send humans to Mars in the next 15 years. This ambitious plan requires constant research and experimentation by today's astronauts, and one of the key places to work out the details is on board the ISS. Three current ISS experiments focus on the effects of spaceflight on the human body, testing an expandable habitat for deep-space exploration, and real-time gene analysis.
If an astronaut doesn't get enough exercise during a long-duration spaceflight, the microgravity (almost zero gravity) environment can cause a rapid loss of bone density and muscle mass. These effects are similar to the symptoms people experience with muscle atrophy diseases. The Rodent Research-3 project studies molecular and physical changes in the musculoskeletal system of mice during spaceflight.1 Test results will increase our understanding of muscle atrophy while using new antibodies known to preserve muscle in mice on Earth. The results could help humans better endure spaceflights to Mars.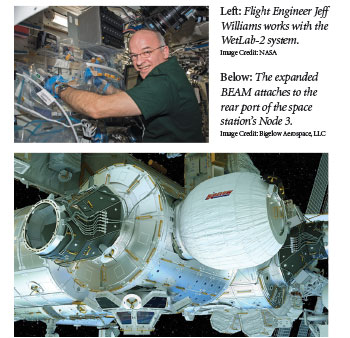 Astronauts will need adequate living and laboratory space while on the Red Planet. Habitats should be lightweight and easy to build, and they must perform in microgravity and the vacuum of space. They also need to protect against solar radiation and space debris. A new structure called the Bigelow Expandable Activity Module (BEAM) appears to be a solution.2 "Expandables" take up less precious room on a rocket but once expanded provide greatly enhanced living and working space. The capsule connects to the ISS and expands to a 13 x 10.5-foot compartment. Crew members will monitor the module's material and design during its two-year test mission.
WetLab-2 uses innovative technology that allows biologists to perform gene activity analysis and other research in the microgravity of space.3 This will help researchers rapidly identify changes in gene expression with the goal of lessening the harmful effects of long-duration spaceflight.
These experiments will advance NASA's Mars program, and veteran astronauts like Col. Jeff Williams are laying the foundation for future missions, journeys that will continue adding to the evidence for biblical creation.
References
Image credit: NASA
* Michael Stamp is an editor at the Institute for Creation Research.