"And Jacob went out from Beersheba....And he lighted upon a certain place...and lay down in that place to sleep. And he dreamed, and behold a ladder set up on the earth, and the top of it reached to heaven: and behold the angels of God ascending and descending on it." (Genesis 28:10-12)
Prophetic dreams were uncommon even in ancient times (
Hebrews 1:1
) and were never for personal use (
Jeremiah 23:16-32
;
Jude 1:8
). Such dreams were rare until the book of Revelation.
Jacob had the most personal encounters with God recorded in Genesis, more than Abraham or any other patriarch. Jacob's ladder was much more than a human construction. The Hebrew word
cullam
is used only this once. The root Hebrew word,
culal
, is similar, with the basic meaning of "highway" or "corridor" or "pathway." The word carries the connotation of "lift up" (see
Psalm 68:4
).
Jacob's "ladder" was probably a highway/causeway to and from the presence of God. Perhaps it was something like our science fiction ideas of a wormhole—a time warp in the fabric of space that permits nearly instantaneous movement from one spot in the universe to another.
The Creator would certainly be able to make a time warp channel for His messengers to get back and forth to Earth quickly. There may be many such channels. This
cullam
was "fastened" on the earth with its "source" in heaven. The angels of God were speeding up and down (through? on? in?) it.
At the source, Jacob saw none other than the Yahweh (the I AM) of eternity standing in His "official" glory (compare
Revelation 1:10-16
). This vision verified to Jacob that God was with him and that God Himself would secure the eternal promises made to Abraham. This dream is unique in all Scripture. Jacob was an unusual man. HMM III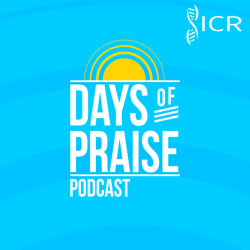 Days of Praise Podcast is a podcast based on the Institute for Creation Research quarterly print devotional, Days of Praise. Start your day with devotional readings written by Dr. Henry Morris, Dr. Henry Morris III, Dr. John Morris, and others to strengthen and encourage you in your Christian faith.