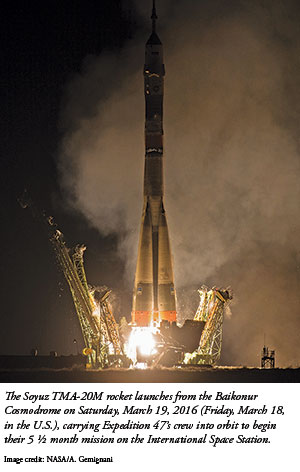 On March 18, 2016, NASA astronaut Col. Jeffrey Williams' family and friends gathered in an open field about three-quarters of a mile from the launch pad to watch the Soyuz rocket lift off. Col. Williams blasted to space for his six-month mission aboard the International Space Station (ISS). ICR's Public Events Ambassador Chas Morse and his wife Patti were there among the supporters. Col. Williams invited the Morses to share the week-long experience, joining his wife Anna-Marie, son, daughter-in-law, and other close friends during final preparations for his time in space.
The ISS orbits at 17,500 mph about 200 miles above Earth, but Chas and Patti had the privilege of being in communication with Col. Williams during the mission. Only six hours after the launch, NASA broadcasted Col. Williams floating through the hatch, joining the other ISS crew members, and then speaking with Chas. The conversation closed with Chas saying, "ICR is praying for you and the entire crew."
Chas and Patti say the highlights of their trip to Moscow, Star City, and Baikonur include:
The launch itself—nothing can compare to the power and magnitude of the blast. Chas said, "As we stood in the field, we could feel it pounding against our chests. It went into the clouds, and we couldn't see it, but we heard it for about five minutes after it disappeared."
The moment of the launch, feeling a sense of finality—no turning back—and the danger. "Knowing at the time of the launch that our friend was in that rocket, going up to space, and his wife was standing right there next to my wife. In that instant, we felt love, concern, fear."
The time spent with Col. Williams through the course of the week and activities they shared with his family and friends.
The professionalism of both the American and Russian staffs and the strong partnership between the Russian space agency and NASA. Just think, 50 years ago the United States was in a heated space-race with the Soviet Union.
Other astronauts shared their faith in Jesus Christ and how they rely on the Lord as they serve in their positions at NASA.
Col. Williams' fourth grandbaby—Hamilton—was born earlier in the week while he and Anna-Marie were in Baikonur watching the event on their phones and tablets, welcoming their new grandchild from about 7,000 miles away. The next morning, the group of supporters came together to pray for the newborn boy.
Every time the people in their group were in situations where Col. Williams walked into the room on the other side of a glass window or behind a fence or barrier, he looked for his group, made eye contact with each of them, and seemed to be energized by the presence of those he knew and loved.
This is Col. Williams' fourth space flight and his third long stay at the ISS, where he will live about six months before he returns home in October. At that time, the 58-year-old will hold the NASA record for the most cumulative days in space: 534. He is also the first American to be a long-term resident of the ISS for three separate expeditions. He has taken more photos from space than anyone else—well over 200,000. During this expedition, Col. Williams "will conduct hundreds of experiments related to plants, animals, cells, DNA, physics, and other areas"1 and take two planned space walks. He is the first to interact live with social media followers while in space. He posts to social media almost daily about his experiences, work, and photos from the ISS.2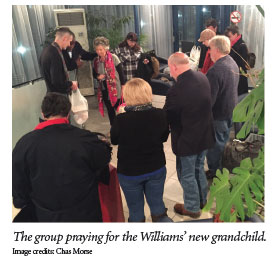 Col. Williams is bold about his faith. When ICR talked to him last year, he told us, "I don't find a conflict with true science—genuine science with integrity—and the Scriptures. I have found that in all cases where there is a conflict, it's not a conflict with the science, it's a conflict with the presupposition going in….I presuppose God. And I presuppose the truth of the Scripture."3 Before this launch, at a press conference with thousands watching, he was asked what personal items he was taking to space. He answered, "My Bible."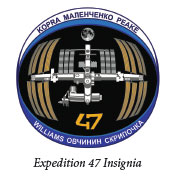 Becoming an astronaut is no small feat. NASA is very selective about who gets to wear the coveted spacesuit. They are currently looking through approximately 18,000 applications to fill 10-15 astronaut positions. For obvious reasons, we tend to place astronauts on pedestals. They are truly the cream of the crop, but they are also human—they have emotional highs and lows, physical challenges, and intellectual and spiritual questions. They have families and friends, and like us, they need love and support. And some of them see creation as the handiwork of a magnificent Creator, even when they're viewing His work from space.
References
Durant, J. 2016. Sailing to the Stars. Acts & Facts. 45 (3): 15.
Follow Col. Williams on Facebook, NASA Astronaut Jeff Williams, and on Twitter @Astro_Jeff. ICR will keep you updated on Facebook at Institute for Creation Research (ICR) and on Twitter @ICRscience. Phone apps include ISS Finder and GoISSWatch. See ISS Interactive 3D Visualization at Heavens-Above.com
No author. 2015. Above All the Earth. Acts & Facts. 44 (3): 5-7.
* Jayme Durant is Director of Communications at the Institute for Creation Research.