Creation research is alive and well in South Korea. This year, the Institute for Creation Research's own Dr. Randy Guliuzza was invited to speak at several major occasions, and the results were nothing less than astounding.

The ever-dynamic Korea Association for Creation Research (KACR) hosted its annual conference on May 30 in Wonju, South Korea. KACR kicked off in 1981 with the help of ICR founder Dr. Henry M. Morris and Dr. Duane Gish, and it has since grown into the world's largest creation organization.1,2 Several hundred of its 10,000 members perform doctorate-level research in academic institutions throughout South Korea.3 KACR President Dr. Eunil Lee, a professor of medicine at Korea University, takes care to nurture KACR's historic roots with ICR—this year inviting Dr. Guliuzza to give the keynote address at their annual conference. The lecture had an overflow attendance of young creation scientists, and Dr. Guliuzza was enthusiastically received.
Chas Morse, a retired Air Force lieutenant colonel and current ICR Director of Church and Seminar Ministries, was stationed in South Korea from 2007 to 2009 and used his contacts there to arrange several events in conjunction with the KACR conference. Dr. Guliuzza spoke to the student body of the prestigious Yongstan International School of Seoul and the congregation of New Harvest Church of Seoul. He also conducted a two-day creation conference at Songtan Central Baptist Church that was attended by hundreds of Koreans and Americans.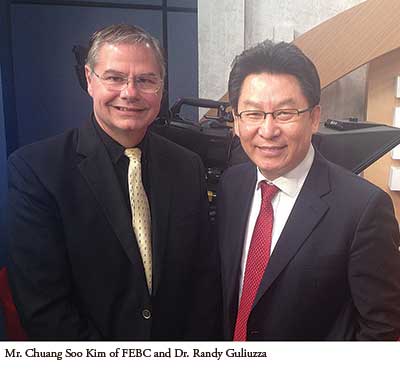 Additionally, Pastor Nelson Chapman of Songtan arranged a television interview for Dr. Guliuzza on a program by the Far Eastern Broadcasting Corporation (FEBC).4 The program is hosted by Chuang Soo Kim, Manager of International Relations of the FEBC, and reaches an audience of tens of millions of people throughout South Korea, China, and Japan.
ICR was privileged to be a part of these outstanding international creation science events in South Korea. We are grateful to the Lord for the hard work and skillful organization of so many of these fellow creationist scientists and pastors, and we look forward to what He will do in the future.
References
Kim, Y.-G. 1986. Creation Science in Korea. Acts & Facts. 15 (2).
Hyon, C.-H. 1996. The Creation Science Movement in Korea. Acts & Facts. 25 (10).
Korea Association for Creation Research website, www.creation.or.kr.
Far Eastern Broadcasting Corporation interview on June 8, 2014, posted on seoul.febc.net/omodule/player/vod_player
.php?id=2433