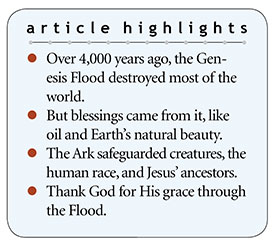 How strange that we decorate children's play areas with Noah's Ark themes. While we paint cute animals on church walls, the real Flood event was horrific. "And all flesh died that moved on the earth."1 Peter wrote, "The world that then existed perished, being flooded with water."2 Scenes of such carnage would terrify toddlers.
The Flood was God's judgment on a wicked world. It might seem a drastic action for a loving God to take, but much good came from it. It's like having surgery. Nobody enjoys their body getting sliced and stitched, but a skillful operation can restore health and extend life. Let's count some of the many graces that Earth's ancient watery surgery extends to us.
We drive or ride to work, school, here and there. What fuels trains, planes, buses, and cars? Petroleum products, of course. And all that oil and gas came from Noah's Flood. It buried massive amounts of algae beneath and within sediment layers. Algae bodies degraded under heat and pressure to form most oil and gas. So, every time we fill up the tank, we have God's judgment to thank.
The same goes for coal. Pure coal deposits don't form today. It took the Flood to dismember, sort, and bury whole forests across thousands of square miles, where the same heat and pressure that produced oil also darkened and compressed the plant material. Coal-burning power plants help make our electric gizmos go. So, we should thank God for His grace through judgment whenever we turn on the lights.
Next, everyone thrills at the sight of a rainbow. God placed it there to remind us He will never completely flood Earth again.3 He has kept that promise for over 4,000 years! Dramatic landscapes offer another grace from Noah's Flood. Hordes flock to picturesque parks like Zion Canyon. What do we see when we visit? Water-laid sediments and striking valleys, both from Noah's Flood.
In the Flood, God cleansed the world of violent creatures. Flood fossils show that flying reptiles and birds had teeth and claws; dinosaurs had teeth, claws, and giant jaws; and even mammalian monsters could have mangled mankind. By God's grace, He reduced these threats so today we enjoy a calmer planet.
The Flood introduced mountain ranges and oceans between places where people live. These buffer the spread of evil. When one nation gets so bad that it deserves destruction, the human race can thrive in another place all by God's grace through the Flood.
God's graces extend from Noah's Ark, too. Americans keep more dogs and cats than children nowadays. The Ark kept them from going extinct! Two dogs and two cats went inside with eight people. Now we can enjoy pets. Have you ever savored an apple or bread made from grains? God was thinking of you when He commanded Noah, "And you shall take for yourself of all food that is eaten, and you shall gather it to yourself; and it shall be food for you and for them."4
The Ark points to the Savior, Jesus.

Finally, the Ark points to the Savior, Jesus. Just as the eight people escaped judgment by entering the Ark bodily, we can escape future judgment by entering (trusting) the Lord Jesus spiritually. He is God the Son as well as Eve's promised Seed.5 Jesus descended from Shem, whom God preserved on Noah's Ark.6 As a result, "this Man, after He had offered one sacrifice for sins forever, sat down at the right hand of God" for us, through the Flood, by His grace.7
References
Genesis 7:21.
2 Peter 3:6.
Genesis 9:13-15.
Genesis 6:21.
Genesis 3:15.
"Now Jesus Himself…the son of…Shem, the son of Noah…" (Luke 3:23, 36).
Hebrews 10:12.
* Mr. Thomas is Science Writer at the Institute for Creation Research and earned his M.S. in biotechnology from Stephen F. Austin State University.