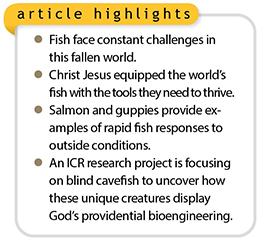 For fish, life is very demanding. Fish life requires quick, targeted self-adjustments 24/7 to ever-changing conditions such as varying salinity and dissolved oxygen, pH (acidity/alkalinity), seasonal sunlight, water temperature, territory competition, shelter availability, piscivorous (fish-eating) predators, and more.
Living life is a nonstop challenge, even for fish. However, since the creation week's Day 5, it was always God's providential purpose for fish to "be fruitful, multiply, and fill" the seas.1 How can fish successfully fill saltwater and freshwater habitats worldwide in such ever-changing conditions?
For starters, Christ creatively designed and equipped fish to carefully collect vital external information (continuous environmental tracking, or CET). Accordingly, CET-acquired data are processed by relevant "if/then" program-logic mechanisms to activate and implement purposeful responses to real-world situations.2,3
Fish need to know what is happening around them and how to relate to it. Like us, fish need accurate data about the world around them—constantly provided by light sensors, chemoreceptors, temperature detectors, etc.—so they can react to threats and opportunities.3
Illustrations of CET-based adaptation responses in fish are uncountable.1 Fish-farmed Norwegian salmon utilize CET when they physiologically self-adjust to artificial safety lights in high-latitude net pens by delaying their usual transition from "growth mode" into reproductive "spawning mode." In effect, the artificial lighting installed to aid fish-farm workers at night is phenologically interpreted by the salmon as "midnight sun" summertime, during which season the Norwegian salmon continually eat and grow bigger.4
For another example, Trinidadian guppies—encountering the jawed jeopardy of predator pike cichlids—repeatedly utilize split-second CET data just to stay alive!
Have Trinidadian guppies learned evasive maneuvers from Spanish bullfighters?…Current Biology reports how gutsy guppies confront a regular predator, the voracious pike cichlid, like a matador. They attract the attacker to a location that can be dodged from. Then, at the last instant, the guppy pivots to safety.…The toreador trick depends upon the guppy flashing its eyes at the attacker. Specifically, the threatened guppy attracts conspicuous attention by turning its irises black, so the predator aims at the guppy's head. After the predator lunges at a committed angle of attack, the guppy dodges.5
Speed and timing are critical. Is matador-like evasive behavior due to evolutionary luck? No, the guppies exhibit "survival of the fitted" because Christ providentially designed their CET-enabled "fitted to fill" survival systems.5 Of course, there is much more.2-4
Meanwhile, as previously reported, ICR's science team is intensively researching CET-based phenotypic and behavioral adaptations in fish, specifically blind cavefish (Astyanax mexicanus).6 Fish display Christ's bioengineering for all with eyes to see.
References
* Dr. Johnson is Associate Professor of Apologetics and Chief Academic Officer at the Institute for Creation Research.