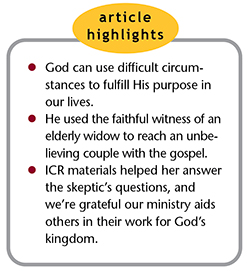 The Bible is full of instances where God used periods of trouble to accomplish His will and refine His people. The remarkable record of Job is perhaps the best example, as God allowed a season of severe testing that would ultimately bring Job into an even closer relationship with Him (Job 1:8-22). From God's perspective, difficult times can significantly benefit us by deepening our faith in and reliance on Him. No matter how bad the situation might seem, believers can rest in the promise that God "will not leave you nor forsake you" (Deuteronomy 31:6) and know that He will be faithful to "supply all your need according to His riches in glory by Christ Jesus" (Philippians 4:19).
Those of us who have known and sought to follow the Lord for many years can testify to the countless blessings we receive from Him. As David sang so many years ago, "Blessed be the Lord, who daily loads us with benefits" (Psalm 68:19). ICR is no exception to this, and one of His sweetest benefits is hearing stories of how our ministry has impacted people's lives. I was recently contacted by a gentleman with an especially encouraging testimony, and with his permission I'm sharing highlights from his story.
Over a decade ago, he and his wife responded to a newspaper ad to serve as caretakers for an elderly widow. When they arrived, they found the lady seated at the kitchen table studying her Bible. Neither of them was a believer—in fact, the man was quite hostile to anything religious. He made it clear on that very first day that while he'd be happy to care for her needs, he didn't want to discuss anything from the Bible. "Why?" she asked. "Because," he replied, "I don't believe anything that book has to say." She quietly chose to ignore his demand, recognizing that God had just given her a new field of ministry.
As the years passed, this sweet Christian lady persistently and lovingly shared the gospel of Jesus Christ with her caretakers whenever the opportunity arose. She and her late husband were faithful supporters of ICR (for over 30 years), and she would often use our resources to answer the man's skeptical questions about science and the Bible. "To say she wore me down would be an absolute understatement," the man told me, "and I'm thrilled that she lived to see my wife and I give our lives to Christ. And ICR's materials had much to do with it!"
Just a few months ago, the Lord called this great lady home soon after celebrating her 100th birthday. She was mostly homebound in her final years, but God blessed her faithful witness as she made the most of the opportunities she was given. And one day in heaven, these three will no doubt have a great reunion.
Regardless of our current troubles or difficult circumstances, believers can make an impact by sharing the good news of our Creator and Redeemer, the Lord Jesus Christ. As this testimony demonstrates, God used an elderly widow to leave a powerful legacy, and it's a great blessing to recognize ICR's small part in it. I hope this will encourage our supporters, and inspire new ones, to continue their faithful prayer and financial support of ICR.
* Mr. Morris is Director of Operations at the Institute for Creation Research.