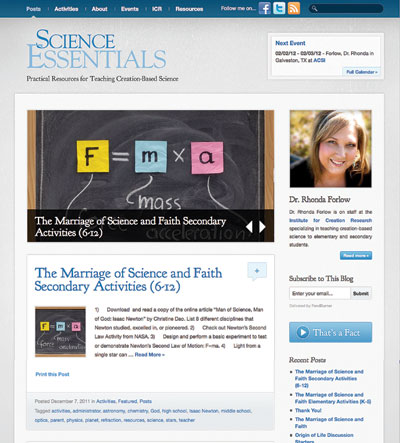 The Institute of Creation Research's Science Essentials blog is making an impact! Since its official launch on October 24, subscribers have demonstrated over and over that creation-based science is a high priority for those who teach K-12 students. As ICR's Education Specialist, I currently host the blog, which offers a variety of K-12 creation science resources. Written for Christian school science teachers and administrators, as well as homeschool parents, Science Essentials provides visitors with practical tools for their science and worldview classes—such as discussion starters to use in the classroom and around the dinner table, elementary and secondary activities, thought-provoking questions and ideas, and more.
The blog has almost 1,000 subscribers as of this writing, and readers viewed the first month's posts almost 10,000 times! My Monday posts are more personal and set the stage for the topic of the week. They will often include a question to answer, as well as a creation science topic structured around ICR's popular That's a Fact video shorts. Wednesday posts are separated into elementary (K-5th grade) and secondary (6th-12th grade) science activities to use in the class with students. These activities are designed to be practical and helpful resources to the teacher. Friday posts center around questions to spark discussion in your classroom or around the dinner table at night. Some of the comments we have received are:
We are a homeschool family. I was looking for a way to approach creation science but I didn't know how to do it, or where should I begin because I was educated with an evolution point of view. Thanks to this site, I'll be able to embark on this learning process along with my children. Thank you very much.
Great to see your science stuff here. I am glad you have science education activities available for teachers to use. God bless you and your family as you minister at ICR.
ICR recognizes the challenge Christian teachers face in today's increasingly anti-Christian world. Our desire is to assist you through the resources on this blog in preparing students to defend the faith in a culture biased by an evolutionary worldview that is hostile to the biblical account. Visit the blog at www.science-essentials.org to see our updated look, leave comments, or sign up for emails to receive the latest posts.
* Dr. Forlow is Education Specialist at the Institute for Creation Research.
Cite this article: Forlow, R. 2012. Science Essentials Blog: Practical Resources for Teaching Creation-Based Science. Acts & Facts. 41 (1): 19.