by Christy Hardy and Susan Windsor*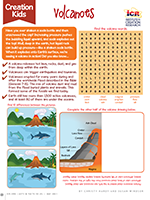 You're never too young to be a creation scientist! Kids, discover fun facts about God's creation with ICR's special Creation Kids learning and activities page.
Deep in the earth, hot liquid rock can build up pressure—like a shaken soda bottle. When it explodes onto Earth's surface, we're seeing a volcano in action!
Click HERE to download the May 2021 activity page.
Click HERE for all of ICR's Creation Kids activity pages.
* Ms. Hardy is an editor and Ms. Windsor is a graphic designer at the Institute for Creation Research.