by Christy Hardy and Susan Windsor*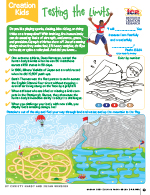 You're never too young to be a creation scientist! Kids, discover fun facts about God's creation with ICR's special Creation Kids learning and activities page.
The human body can do amazing feats. Olympic athletes show off Jesus' amazing design when they swim fast, lift heavy weights, do flips in the air, or spike a volleyball.
Click HERE to download the August 2021 activity page.
Click HERE for all of ICR's Creation Kids activity pages.
* Ms. Hardy is an editor and Ms. Windsor is a graphic designer at the Institute for Creation Research.