by Christy Hardy and Susan Windsor*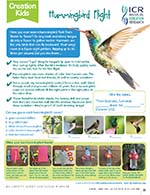 You're never too young to be a creation scientist! Kids, discover fun facts about God's creation with ICR's special Creation Kids learning and activities page.
Have you ever seen a hummingbird float from flower to flower? Hummers are the only birds that can fly backwards. Their wings move in a figure-eight pattern, flapping up to 80 times per second.
Click HERE to download the March-April 2022 activity page.
Click HERE for all of ICR's Creation Kids activity pages.
* Ms. Hardy is Senior Communications Specialist and Ms. Windsor is Graphic Design Specialist at the Institute for Creation Research.