by Christy Hardy and Susan Windsor*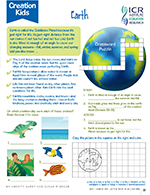 You're never too young to be a creation scientist! Kids, discover fun facts about God's creation with ICR's special Creation Kids learning and activities page.
Earth is called the Goldilocks Planet because it's just right for life. Its just-right distance from the sun makes it not too hot and not too cold. Earth is also tilted at enough of an angle to cause our changing seasons.
Click HERE to download the July-August 2022 activity page.
Click HERE for all of ICR's Creation Kids activity pages.
* Ms. Hardy is Senior Communications Specialist and Ms. Windsor is Graphic Design Specialist at the Institute for Creation Research.