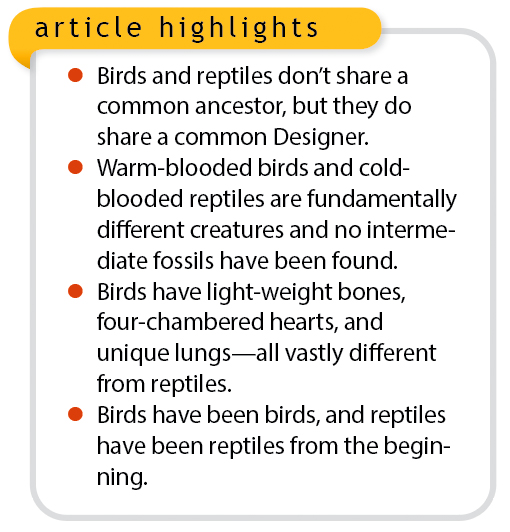 Are today's birds genealogical "cousins" to today's reptiles due to a shared evolutionary ancestry?
No. However, birds and reptiles share the same Creator, the Lord Jesus Christ, who created them to share the same earth.
According to the evolutionary sequence of events, birds are supposed to have evolved from reptiles.3 If that had occurred in the past, it would mean that today's birds such as robins and roadrunners would be distant cousins of reptiles such as cobras and crocodiles.
The Darwinian tale portrays today's birds as winged dinosaurs that supposedly survived a global extinction event that supposedly occurred about 66 million years ago.1,2 Is there any eyewitness report supporting this magical scenario, or even evidence of any such time frame? No and no.4,5 Also, don't look for missing-link fossils of such reptile-to-bird transitions. Those missing links are still missing.
There are myriads of errors in this evolutionary speculation, but only a few are mentioned here. In particular, this pseudoscience scenario requires swallowing at least three invalid and drastic premises.
The assumption that reptiles are not fundamentally different from birds.3
The assumption that a secret agent (oxymoronically named natural selection, as if naturalistic outcomes were intended) can accidently invent—and then secure (i.e., genetically "lock down")—such traumatic transitional transmogrifications.5
The assumption that any such transitions' biochemical and genetic details, in defiance of entropy's universal destructiveness, repeatedly escaped thermodynamic reality.5
For starters, just imagine the first problem—the complicated anatomical and physiological differences between birds and reptiles.
Birds have hollow bones; reptiles, except for marrow cavities, have solid bones.
Birds use air sacs for nonstop unidirectional (one-way) airflow through their lungs; most reptiles have two-way breathing systems.
Birds are endothermic (warm-blooded), actively controlling their body temperature; reptiles are mostly ectothermic (cold-blooded).
Birds have muscle-controlled feathers; reptiles have dry skins or scales.
Birds have four-chambered hearts; reptiles usually have three-chambered hearts.
Most birds have major muscles anchored to their front, attached to a keeled sternum (breastbone), facilitating perching; reptiles' main muscles anchor to their vertebral column (backbone), attached in arrangements conducive for standing, walking, and running.2
Don't expect reptiles to accidentally change their genes to produce birds as descendants. As Fiona Smith says: "In other words, you don't just put feathers on a reptile and then it can fly. There are a multitude of attributes, all working together, that make a bird fly."2
There is much more proof—to borrow Dr. Frank Sherwin's observations—that birds have always (and only) been birds and that reptiles have always (and only) been reptiles.
Reference
* Dr. Johnson is Associate Professor of Apologetics and Chief Academic Officer at the Institute for Creation Research.