New Year's Day is one of the best days of the year. Not only do we take a much-needed rest before jumping into the next 364 days, but we have the opportunity to reflect on the previous twelve months and perhaps make some decisions (a.k.a. "resolutions") that will improve our lives in the coming months and years. This is true as individuals and as an organization like ICR.
Every year is exciting at ICR, full of new research, expanding education, and communication with impact. For 2008, this excitement has been coupled with the transfer of ICR headquarters from California to Texas. Certainly, moving a large ministry operation across the country has its stresses, but in reflection, it is a joy to look back and see the hand of God upon this ministry through the year, not only sustaining us through the transition, but also preparing our steps for years of fruitful service to come.
Let me highlight a few examples of what's been happening at ICR.
Internet Ministries
Facebook, MySpace, pod-casts, blogging--these are only a few of the many new features of the World Wide Web today. The Internet is now a dominant environment in which millions of people operate every day across the globe. Keeping up with the advances on the Web is a challenge, since change is the name of the game.
However, there is no doubt that the Internet holds tremendous opportunities for organizations like ICR. In a sense, the Web is the largest "library" in the world, with information accessible in just a couple of clicks. With ICR's emphasis on disseminating science information, the Internet is one of the best tools we have for getting the right information out to teachers, pastors, science students, researchers, and many more people who need it. This is why ICR is committed to utilizing this tool in the most effective means possible.
Throughout 2008, ICR's Internet Ministries group rolled out a series of upgrades on both of the major Web portals for the ministry--icr.org and icr.edu--with a new "look and feel," as well as new stuff "under the hood," where the programming apparatus of ICR's Internet home is located.
One of the major goals of these upgrades has been to enhance user experience with better menus and more emphasis on information, rather than on ads or other distractions that sometimes plague public Internet sites. In addition, much of the information housed at icr.org has been reorganized to better fit the mission of ICR and to make it easier to locate for the user.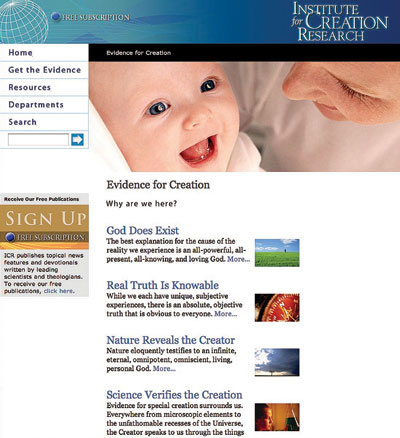 In May, ICR launched a major addition to the website: Evidence for Creation--brand-new content that takes users through a logical order of thought on each of five major issues related to creation. This new Evidence site is also fully-integrated with the rest of the website, which now includes nearly forty years' worth of articles and multimedia presentations on the Bible and science. Visit Evidence for Creation at www.icr.org/evidence.
Other advances on the website have included upgrades to ICR's online store, the addition of ministry-specific landing pages, an Internet-wide public relations campaign, and improvements to our online subscription and donation processes.
Communications
Communicating the wonders of God's creation remains the central message for ICR. Developing scientific data through research, instructing students through our Graduate School, and translating both scientific and biblical evidence for recent creation into accessible publications, radio programs, and speaking engagements are the major areas of ministry focus for the Institute.
ICR's premier monthly magazine, Acts & Facts, continues to grow, with new subscriptions now reaching 3,000 per month. With more than 150,000 copies mailed each month, Acts & Facts remains the most widely-circulated creation magazine in publication. The daily devotional Days of Praise, now with more than 350,000 copies distributed each quarter, is loved by many as their source of daily biblical encouragement.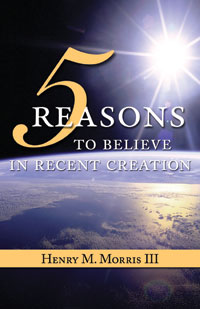 In the fall, ICR revised and expanded the book Some Call It Science by the late Dr. Henry Morris, ICR's founder. In November, ICR published a new book by CEO Dr. Henry Morris III titled 5 Reasons to Believe in Recent Creation, expounding on the absolute incompatibility of evolution and the Bible. (Look for Dr. Morris' most recent book, Exploring the Evidence for Creation, on page 19.)
Seminars and conferences have always been a significant part of ICR's mission to communicate solid biblical and scientific data to the public. During 2008, ICR responded to many invitations to have our speakers teach about creation science to both lay and technical audiences in churches, schools, camps, science conferences, and other venues.
Additionally, ICR asked Dr. John MacArthur to be the keynote speaker to a packed house at the Pike's Peak Center in Colorado Springs in July. More than 1,000 gathered to be taught the clear biblical and scientific evidences for creation.
In the spring, ICR took travelers on another Grand Canyon Creation Tour, providing expert teaching on geological evidence for creation and the global flood. ICR has led creation tours to Yellowstone, Galapagos, Mount St. Helens, and other destinations that demonstrate the wonders of God's creation. Look for upcoming announcements for our Yosemite Creation Tour, scheduled for September 2009.
In August, ICR co-sponsored the 6th International Conference on Creationism (ICC), held in Pittsburgh. A premiere technical gathering of the top scientists committed to recent creation, ICC showcased the work of many ICR researchers in biology, genetics, astronomy, and other important scientific fields.
Every year ICR sends speakers to the Association of Christian Schools International (ACSI) conventions held across the country. In 2008, ICR increased its participation to attend 19 of these conferences, most of them held in the months of October and November. Teams of speakers and exhibit staff traveled nearly every week during that time to offer help and information to the more than 70,000 Christian school teachers who are members of ACSI. As a gift to these dedicated teachers, the ICR science staff developed another teaching poster to hand out at these conventions. This year's theme was Natural Disasters. Excellent for classroom or home school use, the poster is available at the ICR online store.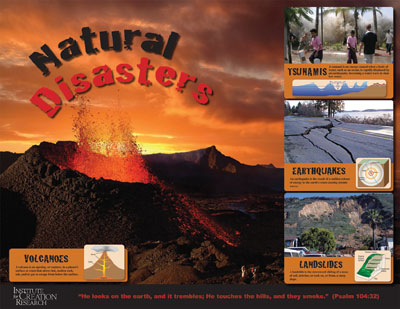 In November, ICR held a ministry banquet at the Omni Hotel near its Dallas headquarters to officially launch the National Creation Science Foundation (NCSF), a new funding initiative that expands creation science research around the globe. Speakers and special guests included Dr. Henry Morris III, Dr. John Morris, Dr. Duane Gish, Dr. Randy Guliuzza, and others who spoke on the work of ICR in research and ministry. The dinner was attended by over 300.
ICR Radio continues to expand its reach, with over 1,500 stations carrying one or more of our three programs. The radio studio in San Diego is being transitioned to the new Dallas campus.
Education
Many Acts & Facts readers have followed the progress of the ICR Graduate School (ICRGS) in its application to move to Texas with the rest of the ministry. The school, now operating for 27 years in and from the state of California, recently converted its resident program into a distance education program online.
ICRGS has been interacting with the Texas Higher Education Coordinating Board (THECB) in Austin, Texas, to process its application for operational authority to grant degrees from the site of its new campus in Dallas. However, the publicity surrounding the anticipated move of ICR to Texas created a firestorm of opposition from evolutionists and atheists, many of whom chided the THECB for allowing preliminary approval through their site team and advisory committee. These lobbying activities in 2008 pressured the THECB to negate the results of their own reviews, assemble their own ad hoc committee of evolutionary scientists, and subsequently reject ICR's application.
Currently, ICRGS is pursuing an official appeal, having already attempted a judge-conducted mediation effort with officials in Austin in the fall. ICRGS remains in California during the appeal process and any state or federal litigation that may arise in the coming months.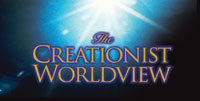 ICR continues to offer non-degree students the Creationist Worldview online program of study. This popular, self-paced program allows working men and women the opportunity to tackle the subjects of worldview, biblical creationism, physical science, biological science, and the application of the Stewardship Mandate from the convenience of home or office. More information about the Creationist Worldview program can be found at icr.edu/cw.
Science Staff Three new science staff members have joined ICR to assist us in the continuing work of proclaiming the message of the Creator. Dr. Charles McCombs serves as Assistant Director of the National Creation Science Foundation. Dr. McCombs holds a Ph.D. in organic chemistry from UCLA. His wife, Janis, a former educator in Florida, works in curriculum development at ICR.
Dr. Randy Guliuzza is ICR's National Representative. A medical doctor with degrees from the University of Minnesota and Harvard, recently retired as Chief of Aerospace Medicine in the U.S. Air Force, Dr. Guliuzza's broad responsibilities will include speaking, teaching, and writing on various subjects in creation science. Be sure to read his article in this month's edition.
Dr. Jeff Tomkins joins ICR as Research Associate in life sciences. Dr. Tomkins is a geneticist, recently on staff at Clemson University, where he managed a large gene sequencing laboratory. He will assist ICR in genetics research at its Dallas laboratories.
Creation Museum
Many have visited the Museum of Creation and Earth History at ICR's California campus and seen the growth of its offerings to adult groups and schoolchildren alike. ICR is committed to carrying on this effort at its new 30,000-square-foot facility in Dallas, and has been busy acquiring new "residents" for this learning center.
In February 2008, ICR purchased several fossils at a natural history auction, including an 8½-foot-tall cave bear skeleton from Russia, a 5-foot-long mosasaur skull--from a 45-foot-long marine reptile--discovered in Morocco, and three fish fossils from Wyoming.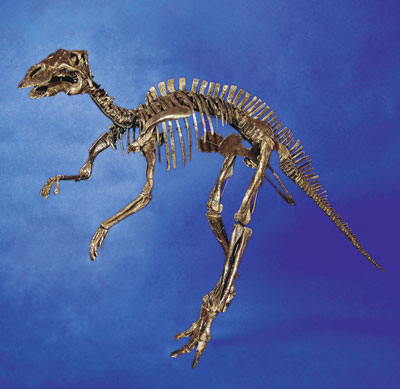 In November, a juvenile Edmontosaurus ("duck bill") fossil was added to ICR's collection. This fully-articulated fossil, discovered in Montana, measures 10 feet long and stands 6 feet high.
Santee Campus
The transition of ICR to Texas is nearly complete, apart from the move of the Graduate School. All other operations and key ministry staff have been relocated to the new Dallas campus. In December 2008, ICR sold its remaining property in Santee, including the museum, which will remain in operation with the new owners.
Preparing for Growth
At the start of this new year, ICR is thankful to the Lord for His leadership of and provision for our staff and our projects. Looking back over what has been accomplished during these nearly four decades of ministry encourages us to move forward with confidence, sowing the seeds of the creation message in churches, schools, and the world. There is no substitute for truth; no excuse for hiding it. ICR remains committed to the truth of Scripture and the overwhelming evidence from science that demonstrates the Bible's accuracy.
This promises to be a year of growth and expansion as we continue to herald the name of our wondrous Creator, Jesus Christ. Pray for the staff at ICR, that we will conduct His business in His way. And lend a hand as you are able, extending to this ministry the prayer and financial support that will allow us to seize each opportunity that God places before us this year and into the future.
* Mr. Ford is Executive Editor.
Cite this article: Ford, L. 2009. 2008: Laying the Groundwork for Growth. Acts & Facts. 38 (1): 4.