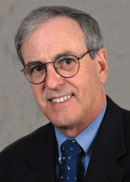 Dr. John D. Morris
Former President Emeritus
Geology, Noah's Ark/Flood, Fossil Record, Age of the Earth, Mount St. Helens

Dr. John Morris, perhaps best known for leading expeditions to Mt. Ararat in search of Noah's Ark, received his Doctorate in Geological Engineering at the University of Oklahoma in 1980. He served on the University of Oklahoma faculty before joining the Institute for Creation Research in 1984. Dr. Morris held the position of Professor of Geology and was appointed President in 1996. He then served ICR as President Emeritus. He traveled widely around the world speaking at churches, conferences, schools, and scientific meetings. Dr. Morris wrote numerous books and articles on the scientific evidence that supports the Bible. Dr. Morris was the author or co-author of such books as The Young Earth, The Modern Creation Trilogy, The Fossil Record: Unearthing Nature's History of Life, The Global Flood: Unlocking Earth's Geologic History, and Noah's Ark: Adventures on Ararat. He was also a contributor to Guide to Creation Basics and Creation Basics & Beyond. He went to be with his Lord on January 29, 2023, at the age of 76.
Available resources by John D. Morris:

Click here for articles by Dr. John Morris.
Click here for the ICR Speakers page.