Robert Boyle
Chemistry and Gas Dynamics
Robert Boyle conducted scientific research into air pressure, mechanics, and chemistry—which he believed should no longer be a subordinate study of alchemy and medicine. He criticized traditional alchemists and laid the foundation for the atomic theory of matter in The Sceptical Chymist, the cornerstone work for modern chemistry. During his travels, he visited Florence, Italy, and studied with the aging Galileo Galilei. He co-founded the prestigious Royal Society in 1663.
He was also a serious student of the Bible, learning the languages of Hebrew, Cyriac, and Chaldee so that he could read the text firsthand. He promoted Christianity in the East by financially supporting missionaries and Bible translation. Upon his death in 1691, he endowed a series of lectures in his will designed to defend Christianity. The "Boyle Lectures" are held annually to this day in London, a legacy of this remarkable man of God.
"The last service that, I hope…is to induce men to pay their admiration, their praises, and their thanks, directly to God himself; who is the true and only creator of the sun, moon, earth, and those other creatures, that men call the works of nature."—R. Boyle, 1725, The Philosophical Works of the Honourable Robert Boyle Esq: Abridged, Methodized, and Disposed Under the General Heads of Physics, Statics, Pneumatics, Natural History, Chymistry, and Medicine, 149.
These men believed in the inspiration and authority of the Bible, as well as in the deity and saving work of Jesus Christ. They believed that God had supernaturally created all things, each with its own complex structure for its own unique purpose. More...
---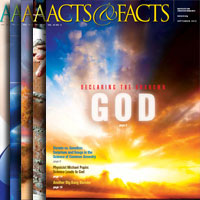 Interested in more information about creation, evolution, and intelligent design? Want to know the latest take on scientific discoveries and how they affect our understanding of the Bible? Does science help us interpret the Bible or should the Bible remain the interpreter of science?
Keep up with these and other issues in ICR's monthly Acts & Facts magazine, a free, full-color periodical that deals with science from a biblical perspective. Included with your subscription is the devotional Days of Praise.
For your free subscription, click here.